The history of Girl Scout Cookies is the story of a famous rapper, the secrecy of a breeding collective in blazing hot California sunshine, a cannabis strain searched for more than 
other
 online, and one worthy of being called a modern classic. 
Origins of the Girl Scout Cookies Strain
GSC was crafted more than a decade ago under the blazing sun of the Sunset District of San Francisco by the collective known as Cookie Fam. The collective gained notoriety in 2010 when Cookie Fam member and rumored breeder of GSC, the rapper Berner, launched the Cookies brand. Girl Scout Cookies was smoked in all the right places by all the right people and the Cookie Fam is now one of the most well-known cannabis collectives in the world. The quality and the unique compositions of their cannabis products are second to none, and their famous creations include Cherry Pie, Sunset Sherbet, and Gelato. 
The lineage of Cookies Strain 
The exact lineage of the Girl Scout Cookies strain is unknown. The collective has kept details of the lineage and even details about which member bred GSC in-house. Rumors suggest that it is an OG Kush x Durban Poison X Granddaddy Purple. The official word from the breeder is that it is an OG Kush The Florida cut x F1 Durban. To add to the confusion, F1, in this case, doesn't stand for first-generation. It is a name given to a plant they were working with that was later crossed with a Durban Poison. In doing so, they created the F1 Durban that was to be used when breeding GSC.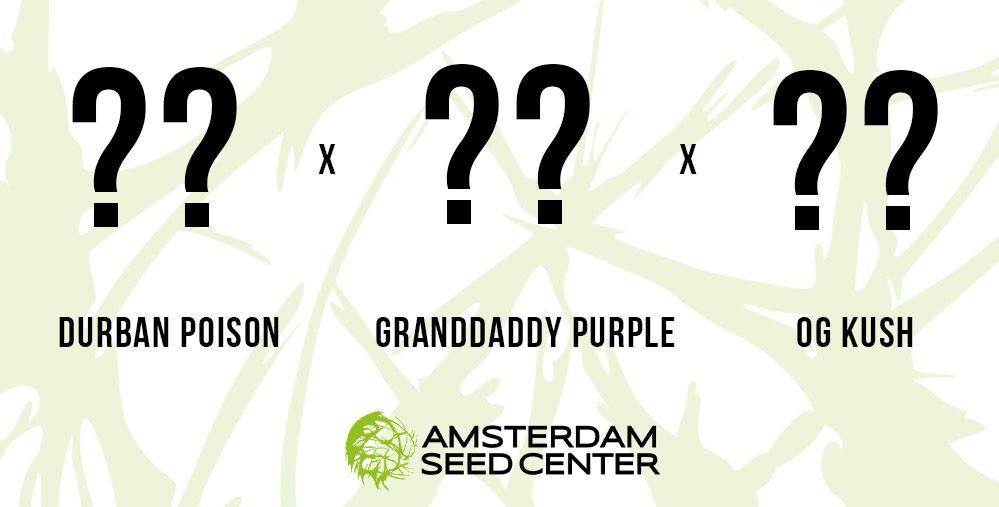 Who created the Cookies Strain? 
So we know it came from the Cookies Fam, but we don't know for sure which member of the family bred the Girl Scout Cookies strain. Given that in some parts of the world, GSC is called Berners Cookies, you would think that it was Berner's creation. However, it could have gained that name due to the rap moguls savvy marketing of the cannabis strain and the cookies brand in general. 
In a league of its own
Because the Girl Scout Cookies strain has a particularly distinctive terpene profile, users and growers of GSC understood that Cookies, like Haze, Kush, or Cheese, were an individual subsection of cannabis. The terpene profile gives GSC an earthy or musky aroma, with some users reported the smell of the freshly baked cookies, the cannabis strain takes its name.  
In addition to its unique smell, the appearance of GSC is different to most other cannabis strains. The flowers of Girl Scout Cookies have attractive purple hues, and the leaves are much darker and smaller than you will find on most cannabis plants. Although the yields are small, the flowers are compact and look dipped in resin, living up to the Cookie Fam reputation for exceptional quality of the end product, not the quantity. 
GSC is incredibly popular in the medical community and is reported by users to alleviate the symptoms of conditions ranging from pain and depression to insomnia. 
GSC phenotypes
The Cookies genetics family was diversified and strengthened by popular and interesting GSC phenotypes such as Thin Mint Cookies and Platinum Cookies. Over the past decade, GSC phenotypes have been cultivated and crossed to create all sorts of intriguing strains that have dominated the cannabis landscape and had a huge impact on cannabis culture. For perspective, there's not a cannabis coffee shop or dispensary that hasn't had a GSC variation on its menu, and according to one source, Girl Scout Cookies is the most searched for cannabis strain online. And with that in mind, we have put together an oven-ready top 5 list of cookies cannabis strains that directly link to multiple cannabis cup-winning Girl Scout Cookies. 
Animal Cookies: BC Bud Depot 
Straight out of the mixing bowl and onto the baking tray, we have Girl Scout Cookies crossed by a Fire OG. The result of the cross is a plant with flowers with a sweet, sour aroma that delivers a heavy full-body high. The breeders claim that this GSC cross will obliterate pain and its ability to cure insomnia is unprecedented.  
LA Cookies - Cali Connection 
This Indica style cookie plant is unlike GSC in that it has a medium to large yield, and while it retains the famous GSC flavour, the plant's Afghani heritage gives a more hashy taste and undertone. LA cookies is a Girl Scout crossed with Cali Connections' own LA Alfie. The plant will flower indoor between 55 and 60 days. 
Cookies Kush

Starting at A$ 72.98£ 39.21CA$ 66.14CZK 1053.27DKK 335.12€ 45.00PLN 205.30RUB 3843.79CHF 44.03$ 49.45
Cookies Kush - Barneys Farm
Barneys took a specially selected GSC and crossed it with an extremely potent OG Kush Rolex phenotype, giving Cookies Kush an aroma of freshly baked cinnamon that leaves a nutty aftertaste. Cookies Kush is a perfect balance of the kush and the best bits of GSC. It is a welcome addition to the cookies line. It will be ready indoors within 60 days. 
Space Cookies

Starting at A$ 32.44£ 17.43CA$ 29.40CZK 468.12DKK 148.94€ 20.00PLN 91.24RUB 1708.35CHF 19.57$ 21.98
Space Cookies - Paradise Seeds 
Paradise Seeds were a little late to the cookies game, but they made up for it with the release of Space Cookies. This cannabis strain is powerful but harmonious and easy to manage. It is a medium-sized plant that will develop frosty flowers. 
Like many other Paradise Seeds cannabis strains, the lineage of Space Cookies is unclear. For a cookies strain, it is a bit of a melting pot. Landraces from India, Africa, and South America were crossed with an attractive Thin Mint Cookie phenotype to create a cannabis cookies strain that lives up to the Cookies name. 
Kosher Cookies - DNA Genetics
This Indica dominant hybrid is like its GSC ancestor in that the yield is small, but it produces connoisseur buds full of crystals. A direct descendant of GSC, this has been crossed with Kosher Kush, the two strains working together to produce a calming effect for the user. And a pepper-like aroma with a citrus taste. Indoor growers can expect this one to flower for 60-65 days. 
If we haven't included your favourite Cookies cannabis strain, bake your way into the comment section. And if your sweet tooth is craving more, check out these seven cannabis strains your dentist recommends you avoid.