Our special selection of
TOP 5 PURPLE CANNABIS SEEDS
Are you looking to grow the best and most purple cannabis you have ever seen?
We selected the top 5 best performing Purple cannabis strains to make choices a bit easier for you ;). Need more choice? Check out our complete assortment of purple cannabis strains.
The following strains are in random order.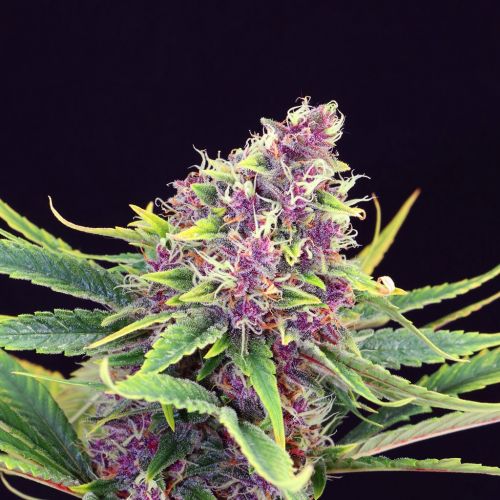 Purple Kush from Kannabia Seeds
This is a hybrid of
70% Purple
with a highly compact and richly resinous bud that draws the eye. The wait to enjoy its sweet herby taste may seem eternal, but with its rich amethyst colour and brilliant  shine, it will be the jewel of your garden.
It is a plant that requires little attention and grows well with small amounts of a recommended fertilizer. Over-fertilization will be clearly visible in marks on the leaves. The whole plant has a purplish tone, most notable in its resin-loaded buds.
High in THC
and low in CBD, its affect is highly calming. Purple Kush´s hit is
 

clearly Indica
, giving you a relaxing buzz but without knocking you out. This plant will care for you and won´t leave you without the energy for day to day life.
Kannabia's Purple Kush is the variety that adds the colour of wild berries to their seed bank, thanks to its contrast of rich purples and greens.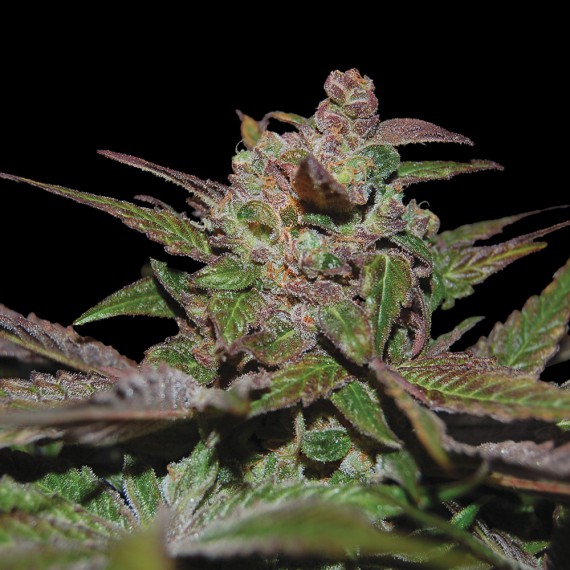 Purple Wreck from Reserva Privada
Purple Wreck Marijuana Seeds in Reserva Privada by DNA Genetics, a Dutch based seedbank offering some of the rarest genetics to be made publicly available. These cannabis seeds are absolutely the pinnacle of the cannabis geneticist art. By making their Private Reserve public the DNA Genetics company has created possibly the finest collection of pot or weed seeds in the world.
Urkel is one of California's most sought after strain. It demands the highest price in any circle. It was crossed with the Train Wreck (T4) male. This improved the vigour of the Urkel, a notorious slow grower. The Purple Wreck has large Train Wreck buds with purple hues. The sweet fruity aroma of the Urkel dominates the cross. The Purple Wreck is short, early flowering and produces dense nugs.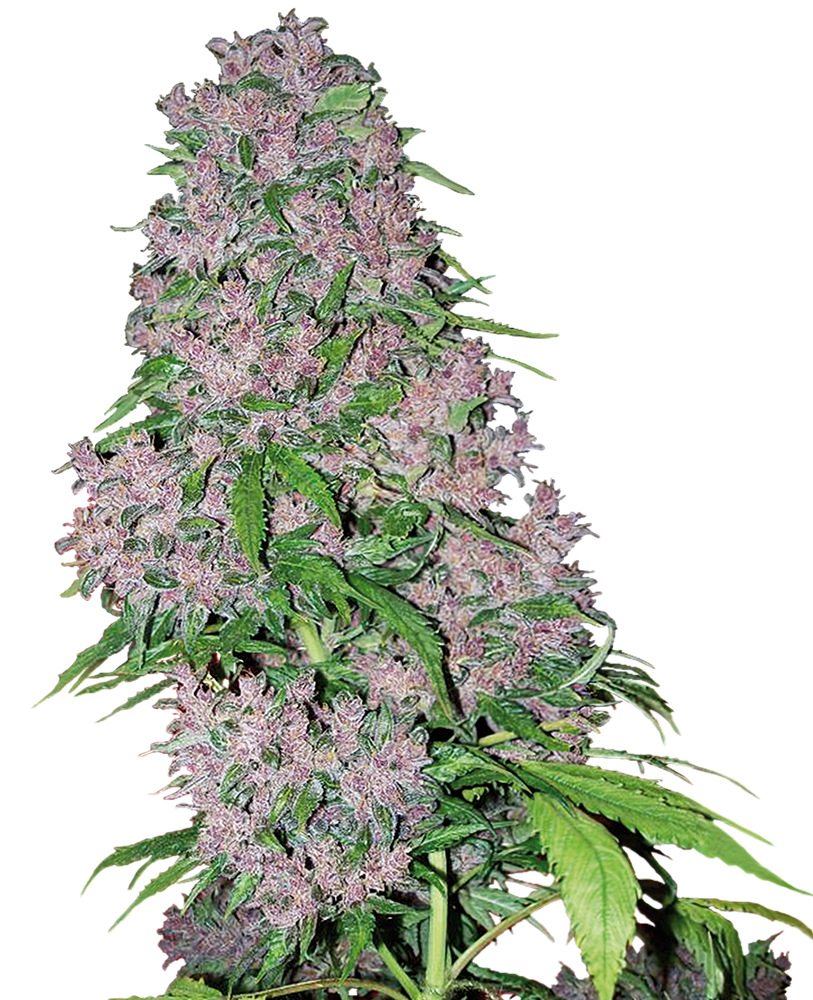 Purple Bud from White Label
This is a high-potency, heavy-yielding feminized Afghani with a hint of Sativa and a strong purple tendency. Purple Bud Feminized is easy to cultivate indoors, even for beginners, and will flourish outdoors in the spring and summer of a temperate climate.
Purple Bud feminized is bred from some of the most important cannabis gene-pools in the world. Her parents and ancestors can be traced directly to the legendary Indica cultivars of Afghanistan's Hindu Kush region, to the California medicinal marijuana scene and, naturally, to Europe's weed-breeding epicentre, the Netherlands
Two pure Afghanica cultivars are the main influence behind Purple Bud Feminized, and are the source of this hybrid's high potency, swift flowering, dense buds and sturdy frame. The more distant Sativa ancestor is a sought-after Jamaican variety which gives Purple Bud a little extra height and a lot of extra high to complement her body-centred Indica stone. The final stage in the breeding of our all-female Purple Bud seed-strain was to cross this 75% Afghani with a stunning Kush hybrid made from Dutch-bred Hindu Kush and a US purple Kush.
Starting at A$ 19.87£ 10.41CA$ 17.89CZK 291.53DKK 89.47€ 12.00PLN 52.15RUB 1171.29CHF 11.57$ 13.15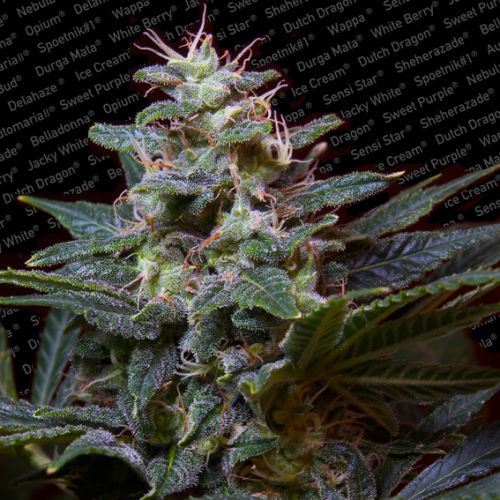 Sweet Purple from Paradise Seeds
Sweet Purple is a hybrid of 3 varieties: a purple variety, an early-finishing / large-yielding Dutch variety and an exceptionally potent strain. As the name implies, this strain most of the time keeps the coloration of the purple parent, while gaining sweetness and potency from the Dutch part of the family. This mostly Indica mix was especially bred for outdoor gardens in temperate climates.
Sweet Purple is a strong variety that has the additional benefit of resisting mold. These vigorous plant stand up to cold, wet climates and grow to a full height of about 2.5 meters (8 feet) and can yield 500 grams per fully matured plant.  Sweet Purple shows some variation, and potency can vary from average to wow from one plant to another.  The coloration also ranges, with some plants turning completely purple while on others, only the buds take on that royal hue.
Sweet Purple has a strong herbal, minty bouquet underlined by a sweet tone. The high is a pleasant bodily sensation, but also retains a lucid edge that may increase your sense of concentration.
Starting at A$ 49.67£ 26.02CA$ 44.73CZK 728.83DKK 223.68€ 30.00PLN 130.38RUB 2928.22CHF 28.93$ 32.87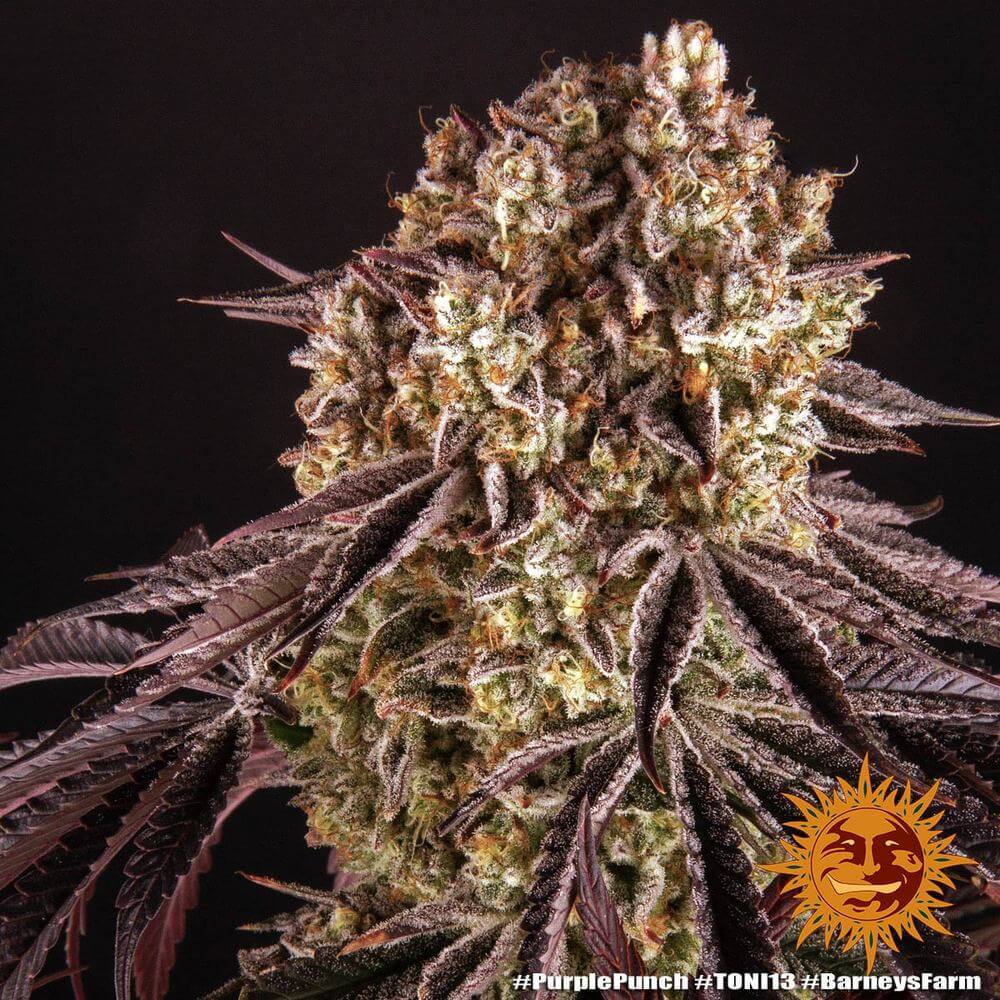 Purple Punch from Barney's Farm
Barney's Farm continues to bring you awe-inspiring genetics from around the globe with another USA west coast powerhouse of a strain PURPLE PUNCH™.
The delicate fusing of its Indica dominant parents Larry OG x Granddaddy Purple has provided a real tantalising gem.
The exquisite smooth sensual tastes of Baked Apple Pie with cloves glazed with caramelised blueberry and cherries blend perfectly with the sedative calming effects that PURPLE PUNCH™ oozes.
Expect a Short stocky plant with numerous astonishing trichome laden, high yielding branches just dripping with resin tested at 25% THC.
This plant has a serious genetic steroid issue!!!
It will flower in 50-60- days, reach 1.5M outdoors and produce up to 2kg
Check out our other top 5 lists
Contact us and we will help you further.