Grow Report
White Choco from Amsterdam Genetics
Grow Report - White Choco
On this page you can find a report of what we are growing in our shop. Currently we are growing the White Choco from Amsterdam Genetics. Amsterdam Seed Center is one of the few places in Amsterdam which you can actually visit to see and smell cannabis growing. This is our Strain of the Shop and we offer this strain with a generous discount.
Get White Choco seeds now with 25% discount until harvest, only at your favourite seed shop!
Original strain description
White Choco cannabis seeds by Amsterdam Genetics are a unique strain developed by us here in Amsterdam.
This well balanced Indica / Sativa strain is the result from breeding the highly potent White Russian with the delicious tasting Chocolope. White Choco has become one of our most successful strains to date. With Coffeeshops in the Netherlands unable to keep up with the demand of their customers for this wonderful strain.
With the most amazing sweet yet spicy chocolate taste the White Choco gives an activating head buzz at low doses. While at medium to high doses this effect changes due to the presence of CBD and CBG evolving into a more deactivating, sleep promoting and appetite increasing effect.
The White Choco cannabis seed has a 8 to 9 week flowering time. Depending on conditions, growers can expect their plants to reach 1.2o-1.50 meters producing a 400-600 g/m² indoors. When grown outside expect heights to reach between 2-3 meters with a 400-500g per plant yield.
Growtent Setup
Tent Size:
- 60x60 cm
Air:
- Extractor fan
- Mini fan
Medium
- Pots: 3 x 15 liter
- Soil: Plagron Light Mix
Nutrients:
- BAC Nutrients Starter Kit
Light:
- Growing: 150w LED light "Jackson" from Grow the Jungle
- Flowering: 250w HPS light
Week 15-16: Harvest time!!!
White Choco from Amsterdam Genetics in week 15-16 of the grow.
Week 8 of flowering, the plants have been flushing for the last few weeks. 
They look delicious! All the pistils have disappeared and turned in the precious calyxes that for the buds. The trichomes on the leaves and calyxes give the ladies a diamont-like sparkle with the LED light shining on it. A spectacle to behold. 
The smells are gassy, terpy and punchy. Like fresh ground spices in a mortar. Exactly like the White Choco we were used to from years back when it was still available at Boerenjongens, remember that craziness? 
The buds feel dense to the touch and they are very top heavy, they actually needed another net to keep them up straight. But it doesn't matter anymore because they are about to be chopped, dried, cured and blessed!
The plants are not the biggest of all that we've grown. The leaves are on the smaller side and they are not super tall.
The harvest will be announced in after our Instagram giveaway! Stay tuned on our socials @amsterdamseedcenter on Instagram.
Last chance to get White Choco seeds with 25% off... Next grow is starting soon!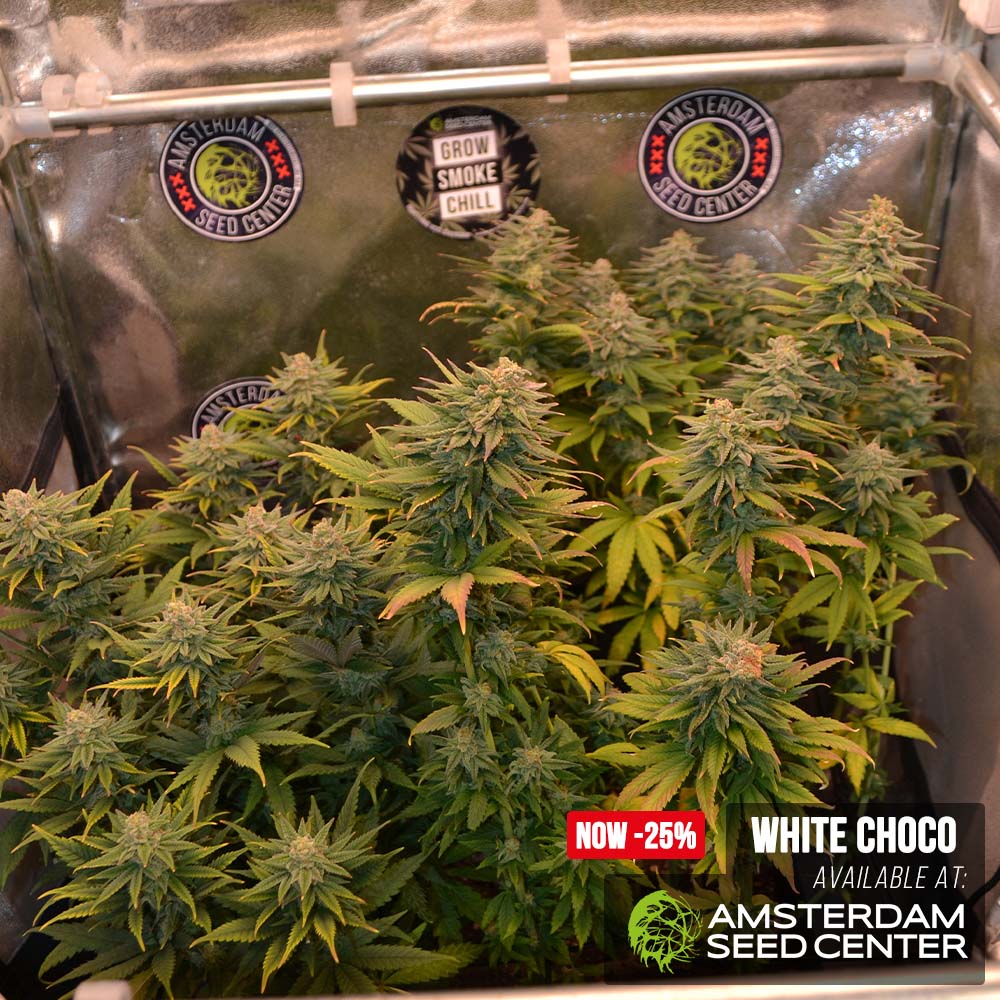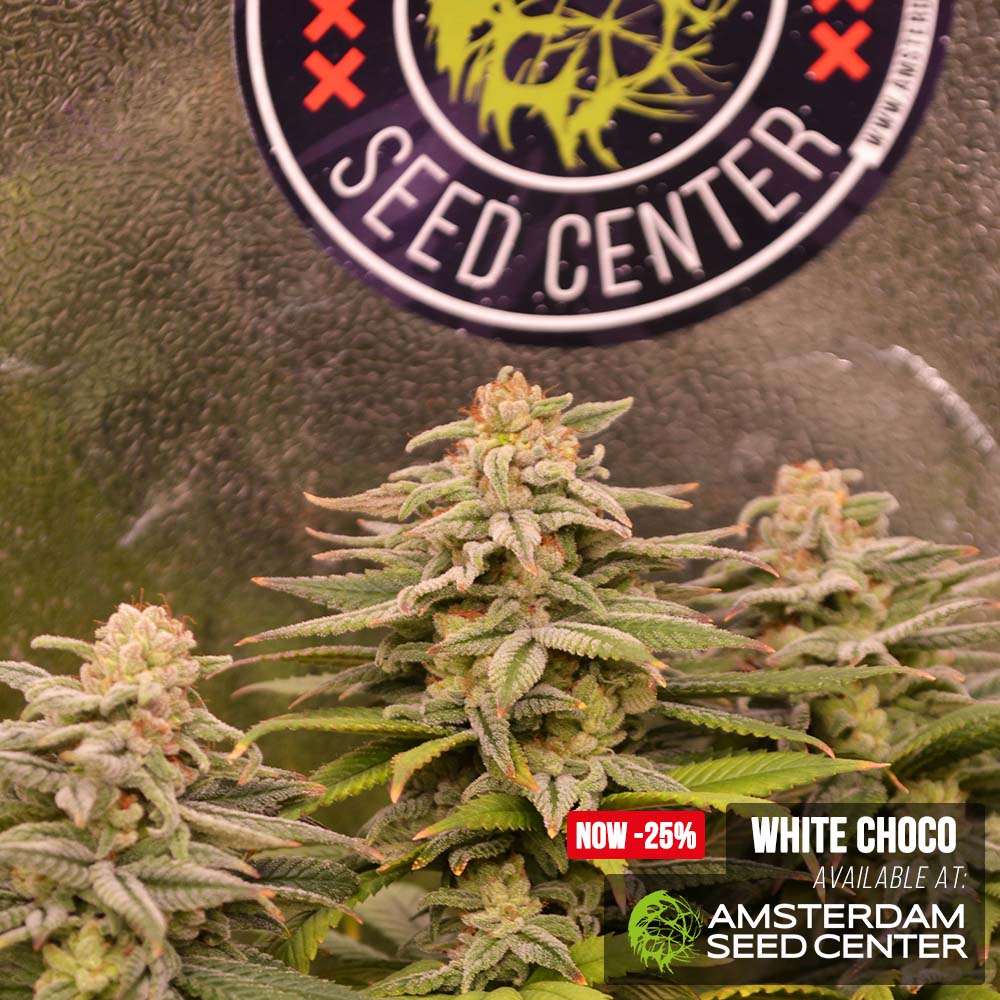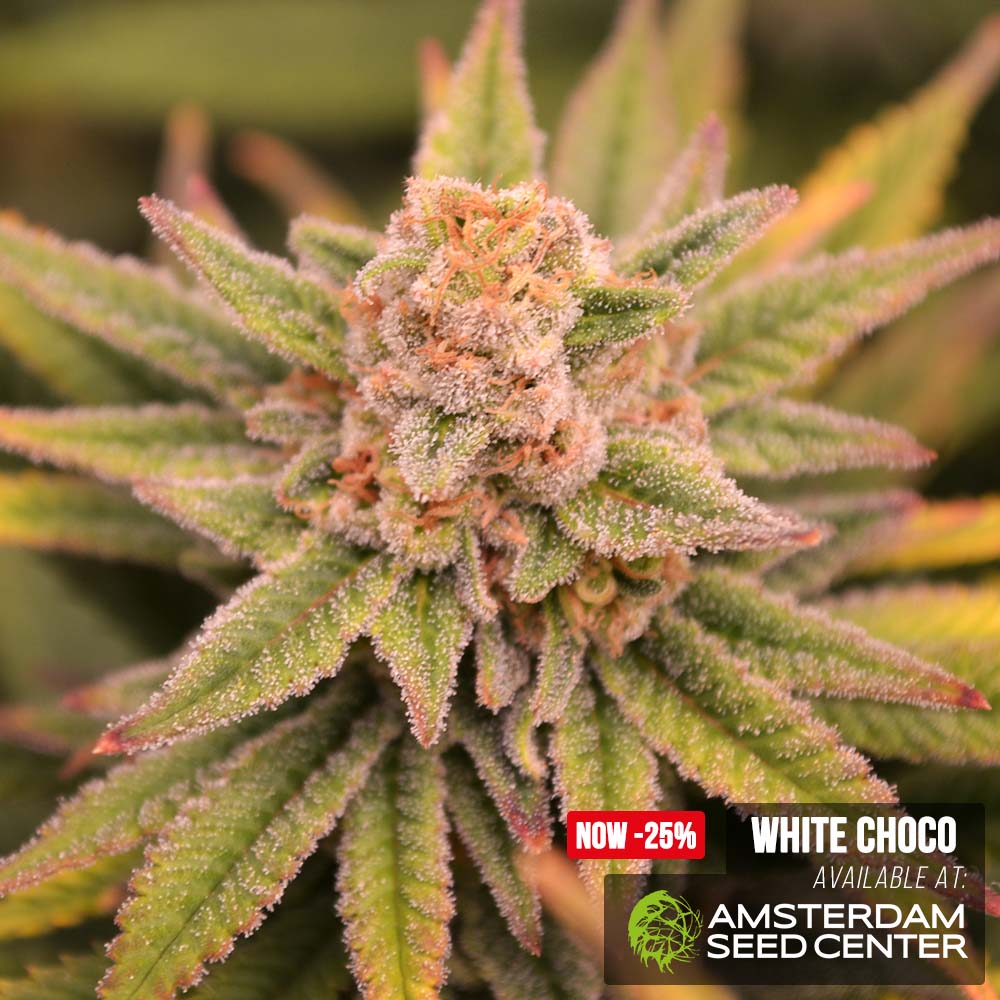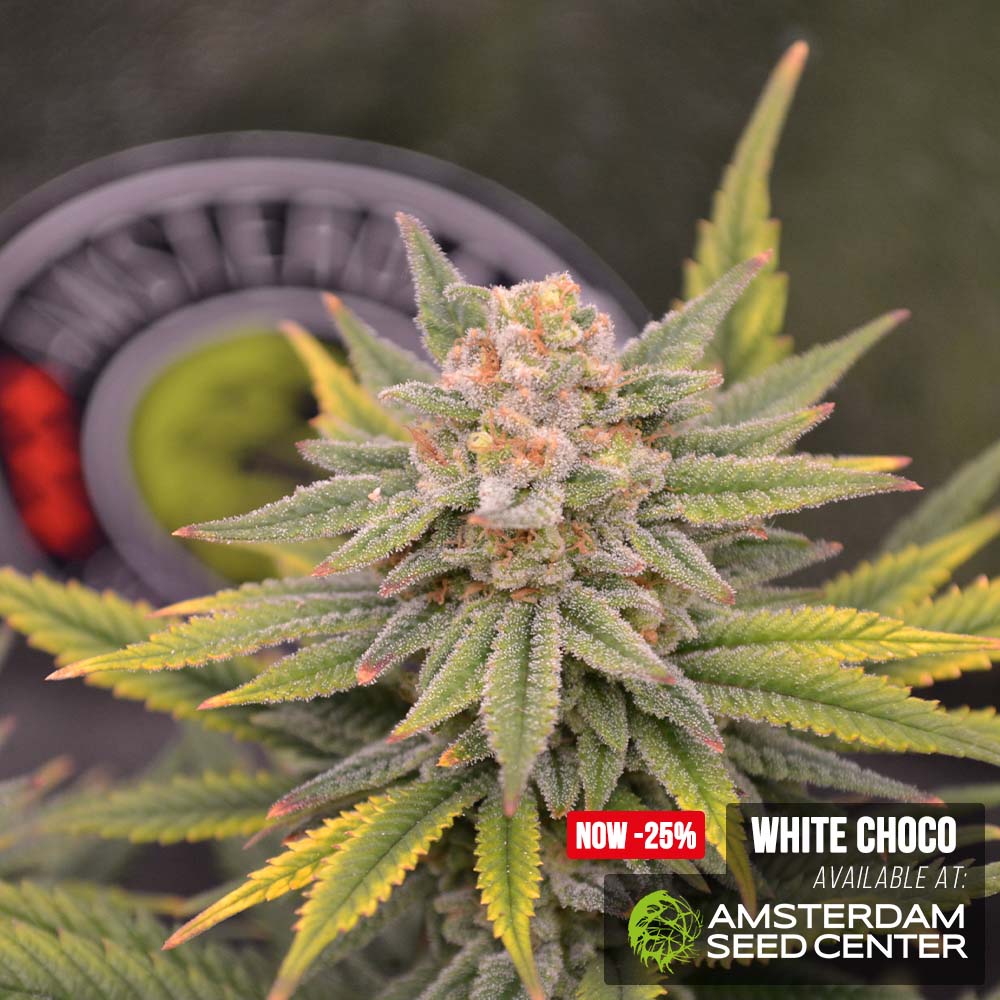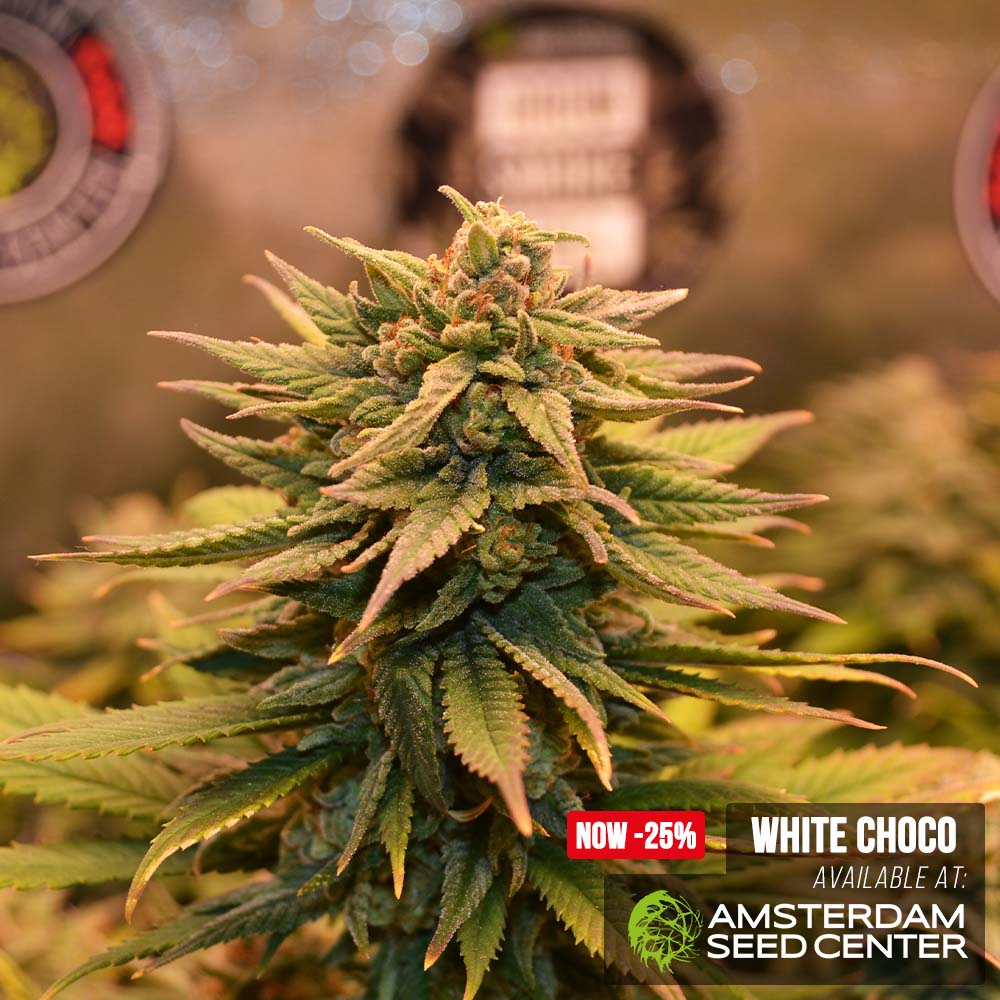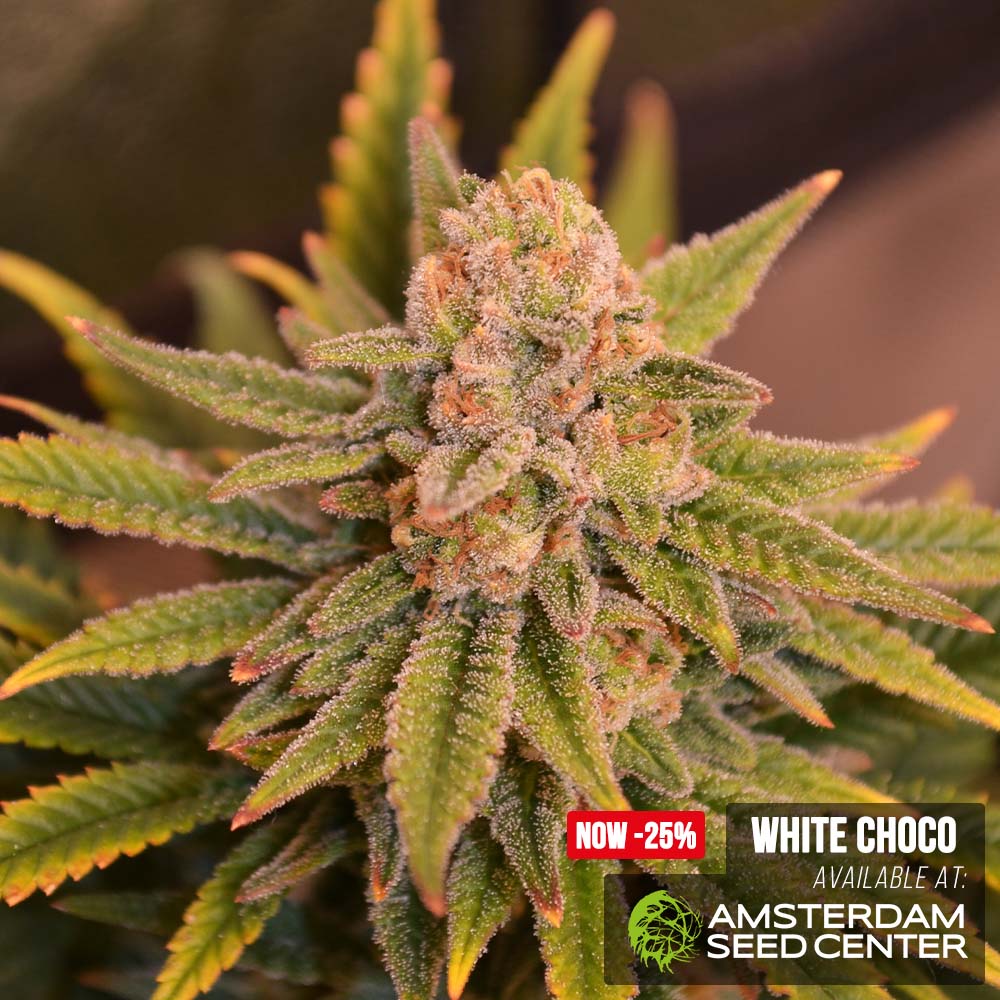 White Choco from Amsterdam Genetics in week 14 of the grow.
Week 6-7 of flowering, and the plants are looking amazing!! 
The buds now have their classic shape and are thickening up in this final stage of flowering. 
The leaves and calyxes are COVERED in trichomes which are giving of a very vibrant and tasty aroma. A true pleasure for the nose as well as the eyes!
About 2 more weeks to go before harvest. Started flushing now!
Get White Choco seeds now with discount before we harvest these plants!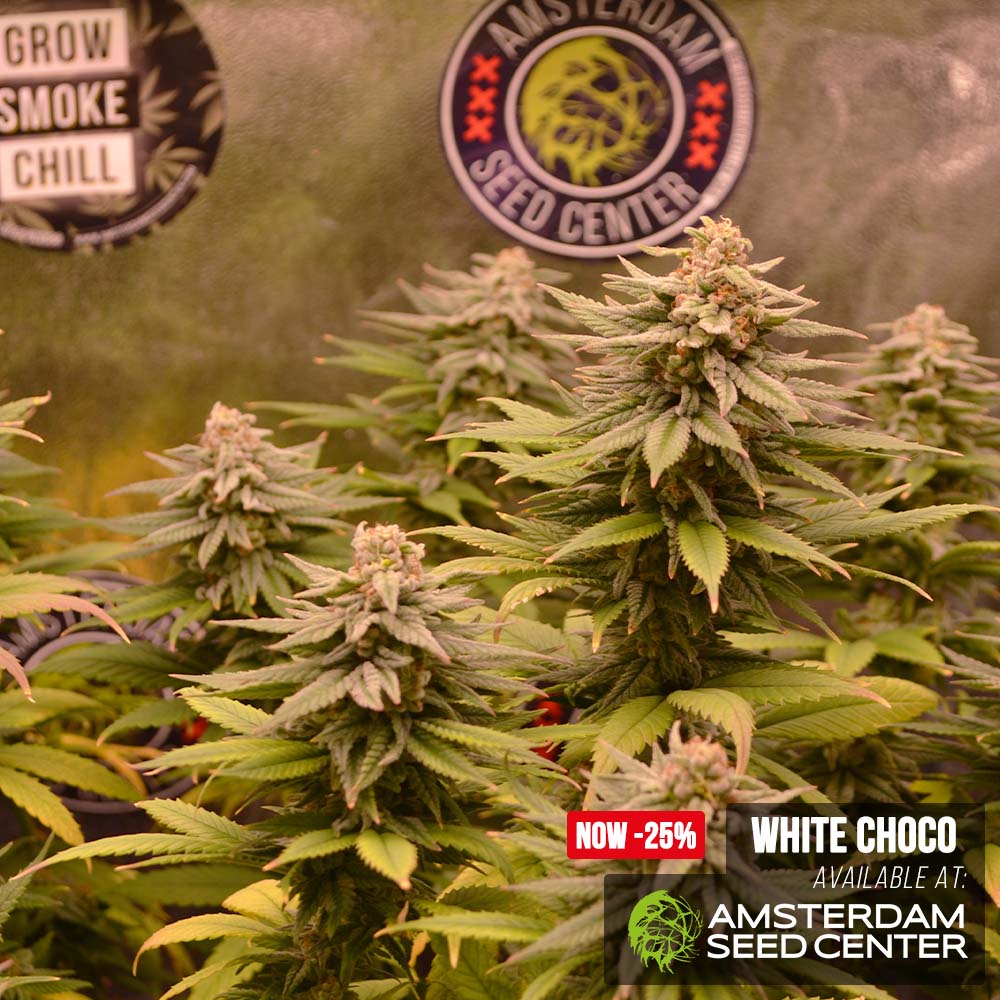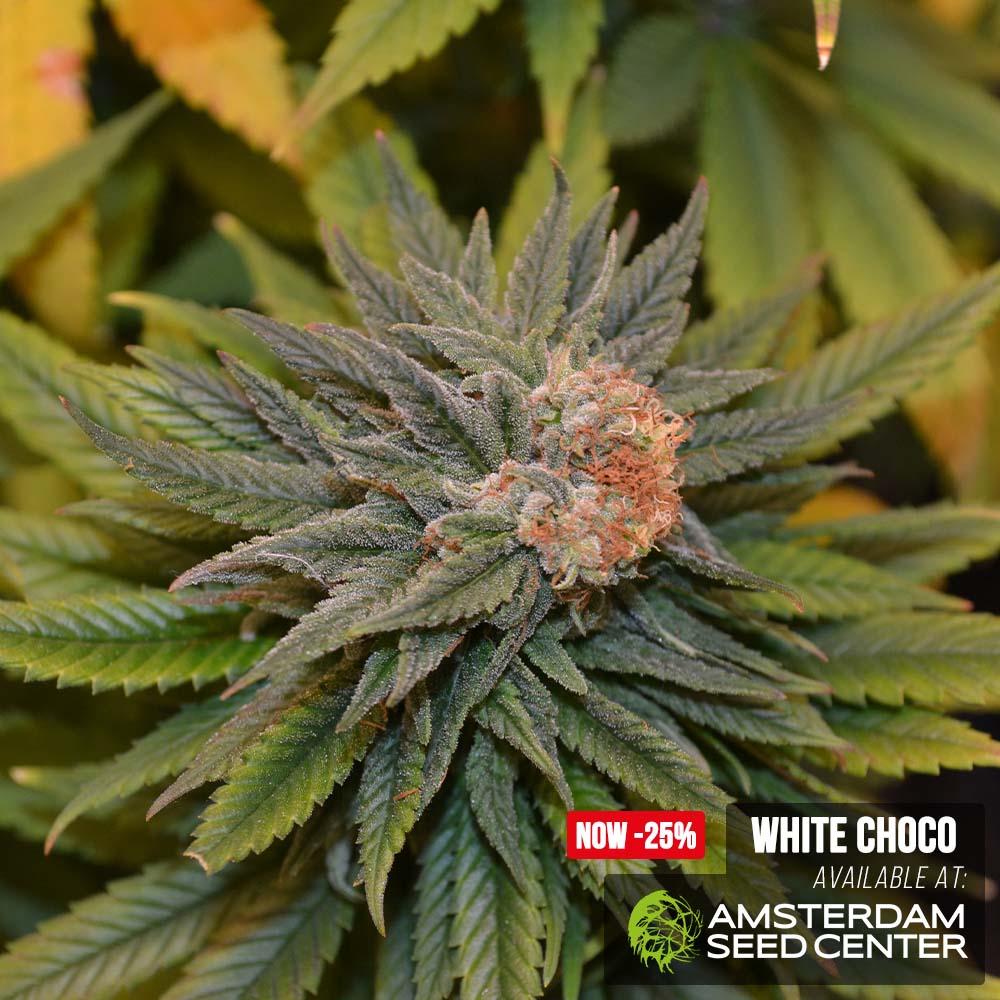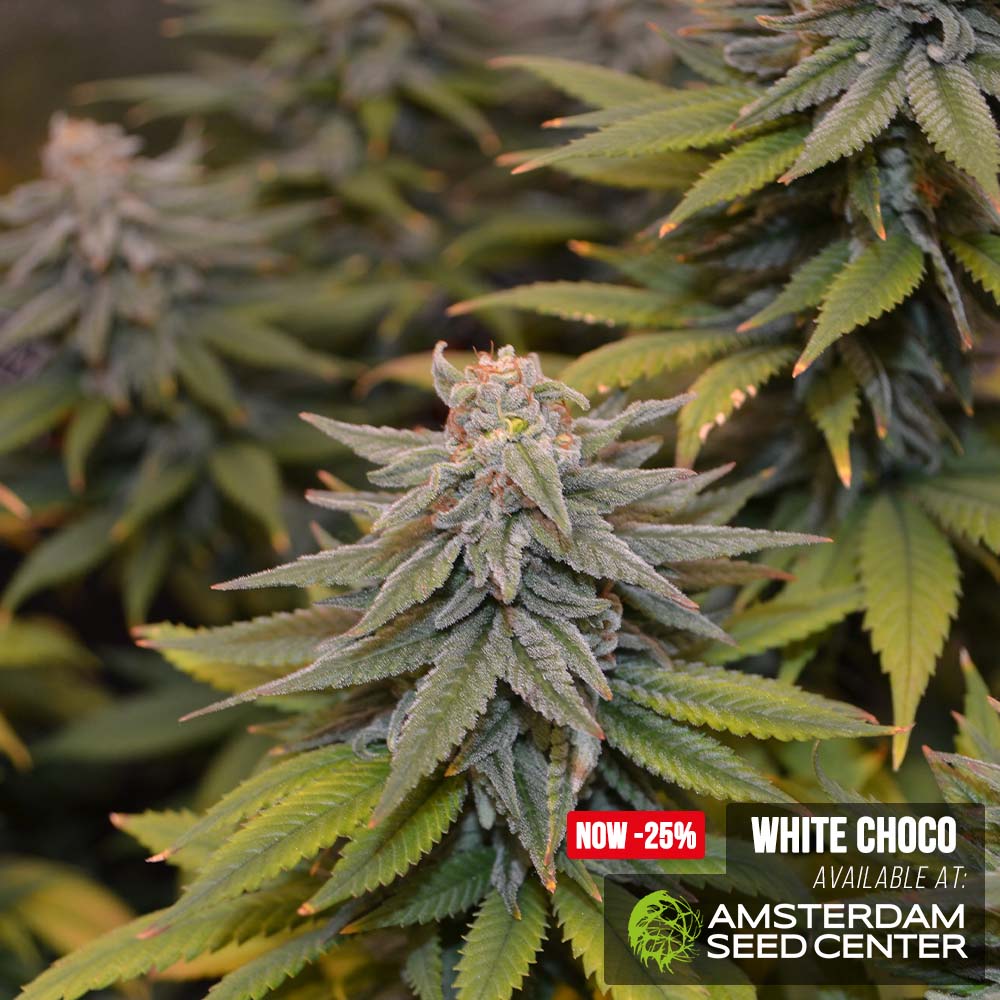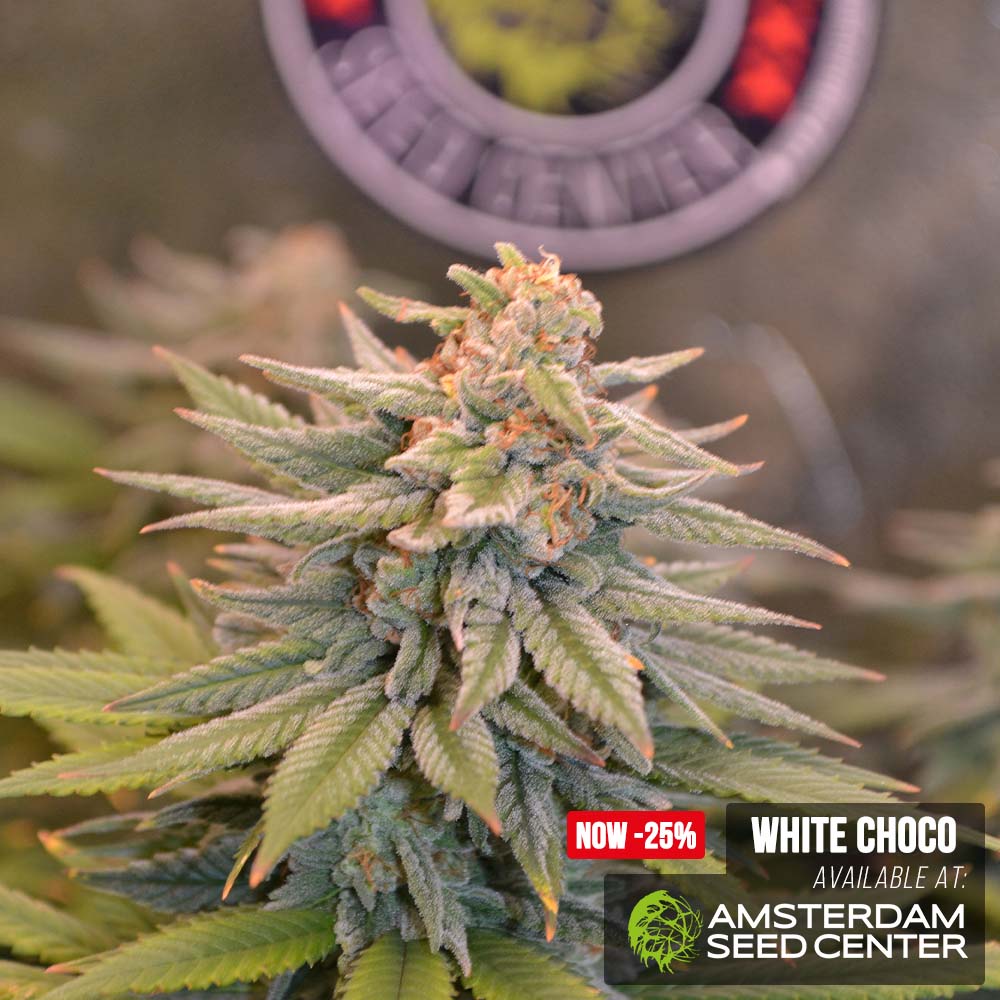 Week 12: Buds taking shape
White Choco from Amsterdam Genetics in week 12 of the grow.
Week 5 of flowering, the grow is going pretty well. 
More and more calyxes are forming and the buds are starting to take their classic shape. 
Lots of trichomes now visible on the leaves and calyxes.
Due the a slight water shortage , some pistils turned a little more orange-brownish color. But fixed and restored that of course.
A couple more weeks to go before harvest.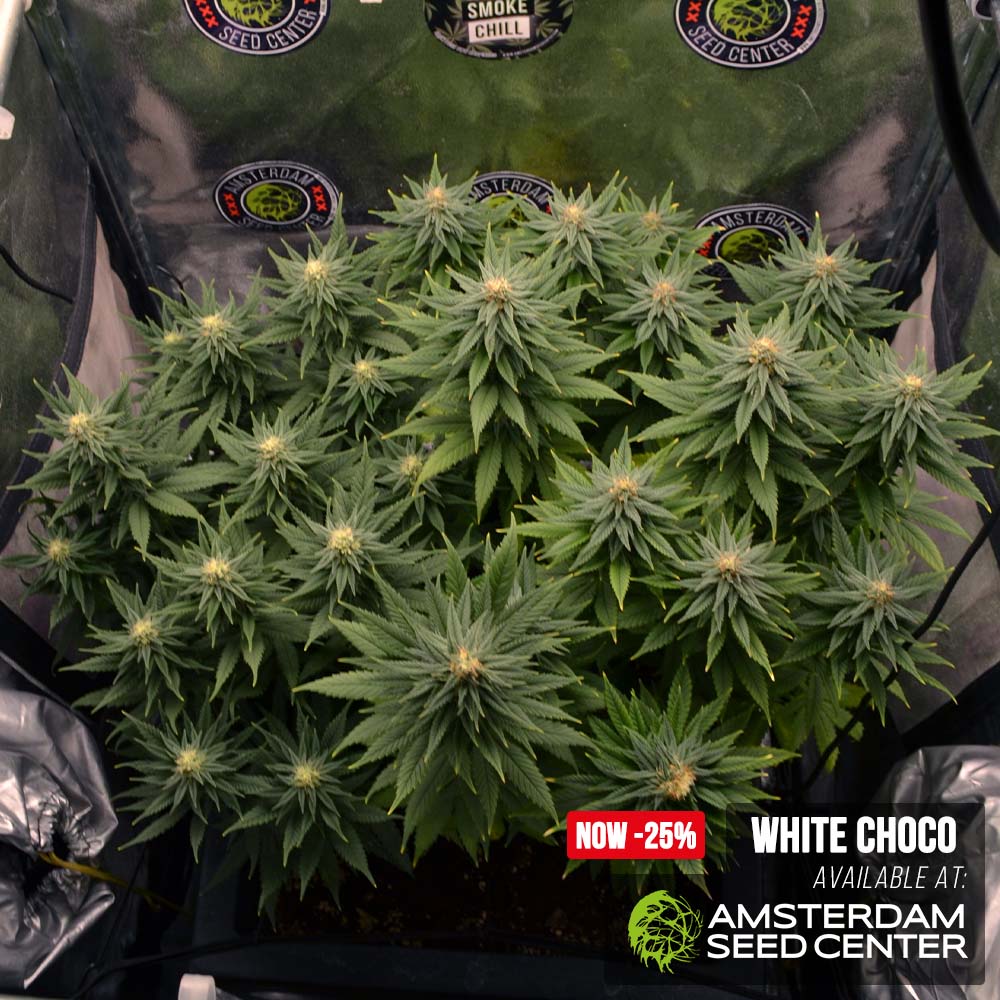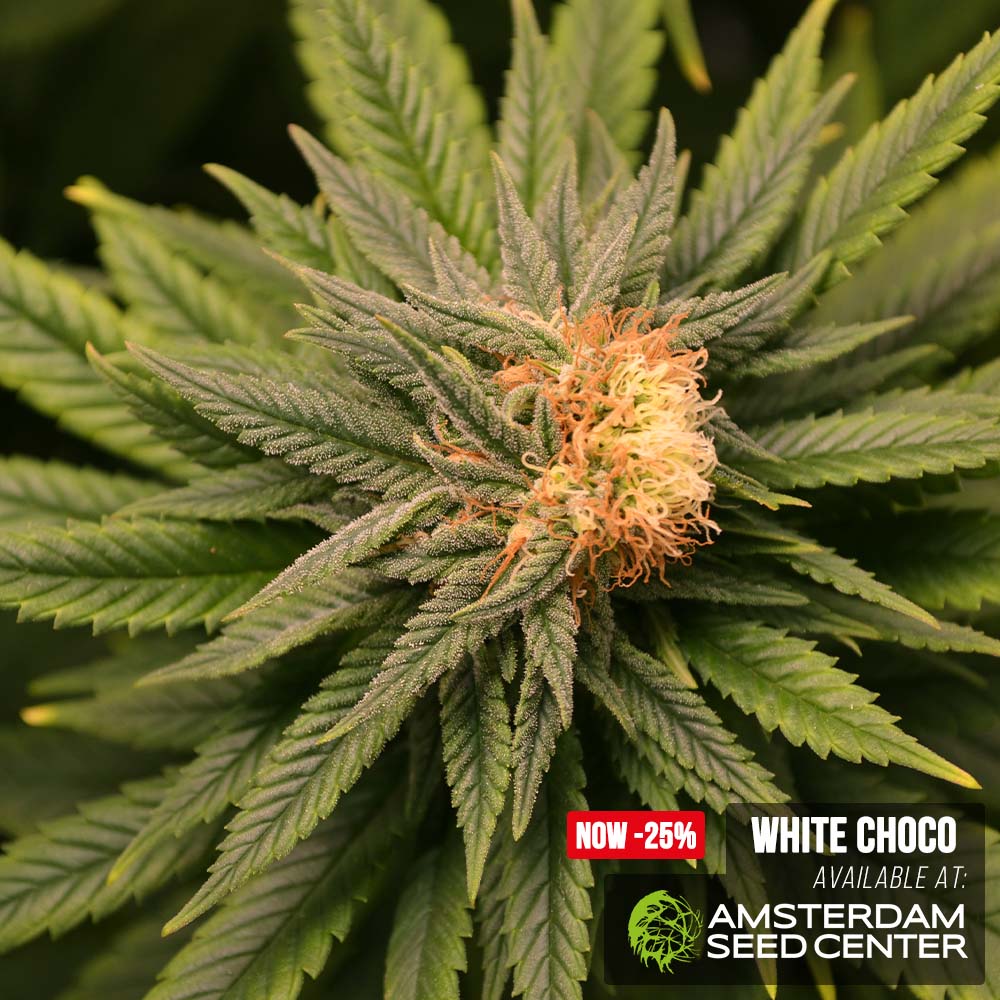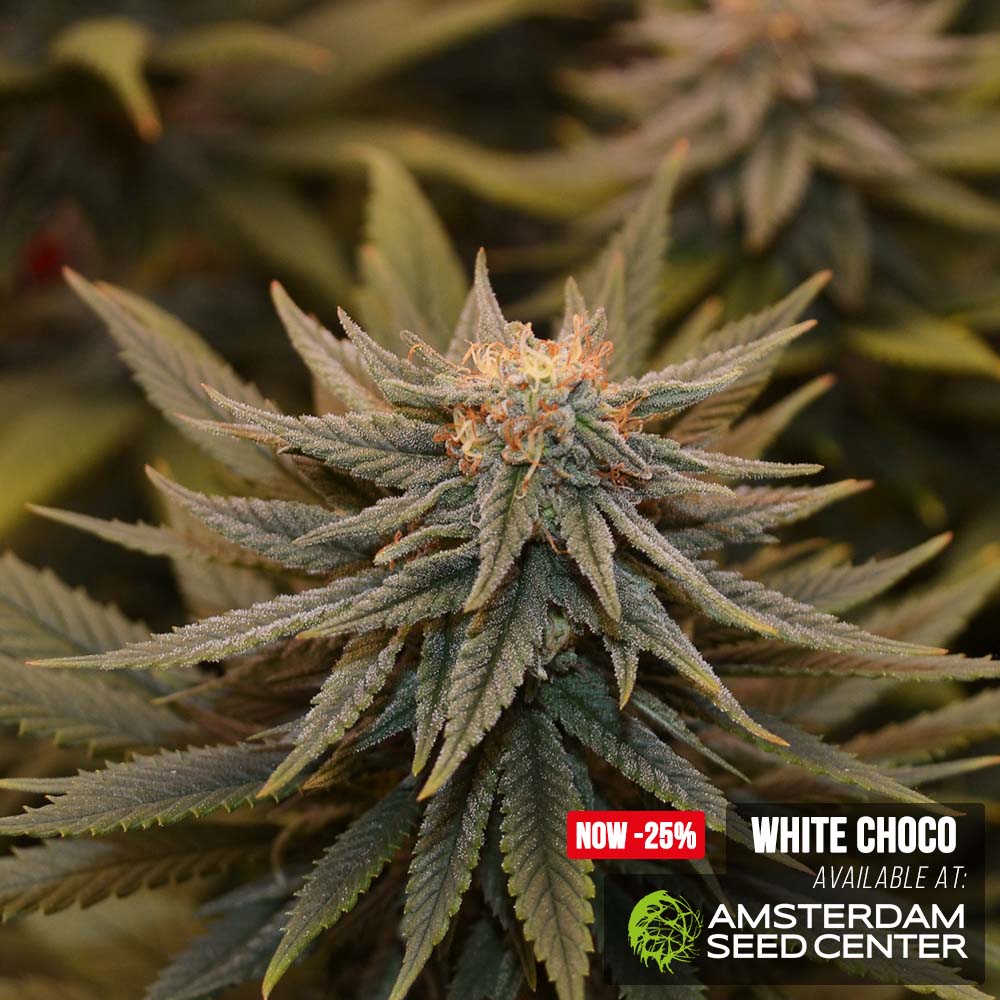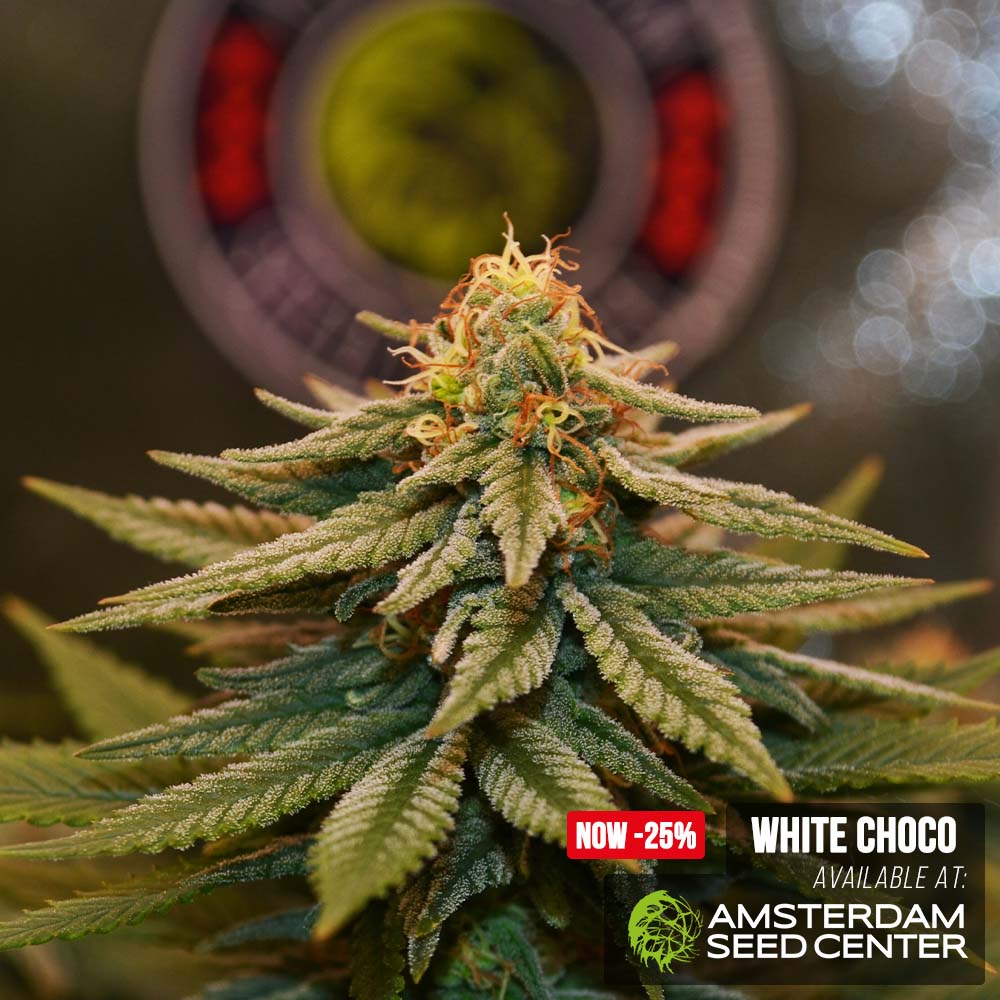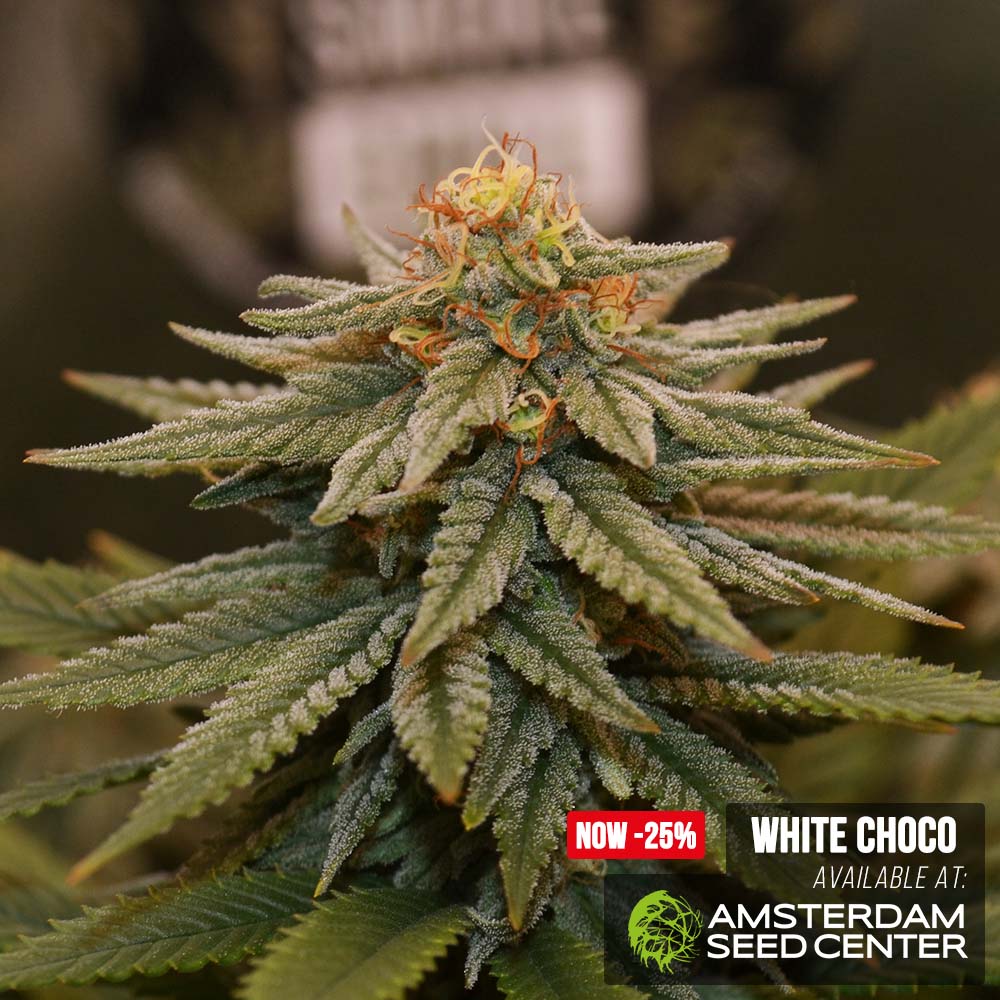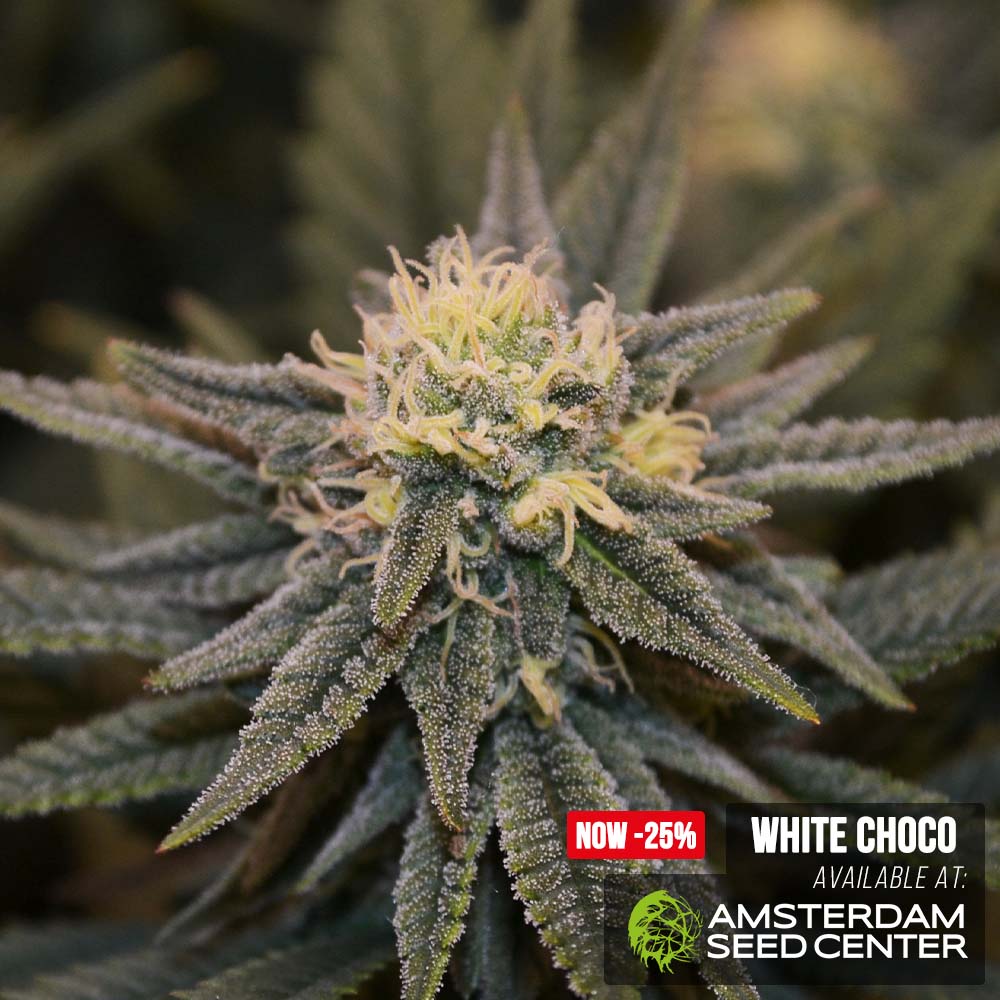 Week 11: Flowers are forming!
White Choco from Amsterdam Genetics in week 11 of the grow.
Week 4 of flowering, there is hardly any stretching of the plants. 
The plants are concentrating their energy fully on developing the buds. 
The amount of pistils has nearly doubled. We can see calyxes starting to form now too.
Our mutation-branch is growing along nicely. Looking to be a bit thicker than the rest!
About 4 more weeks to go!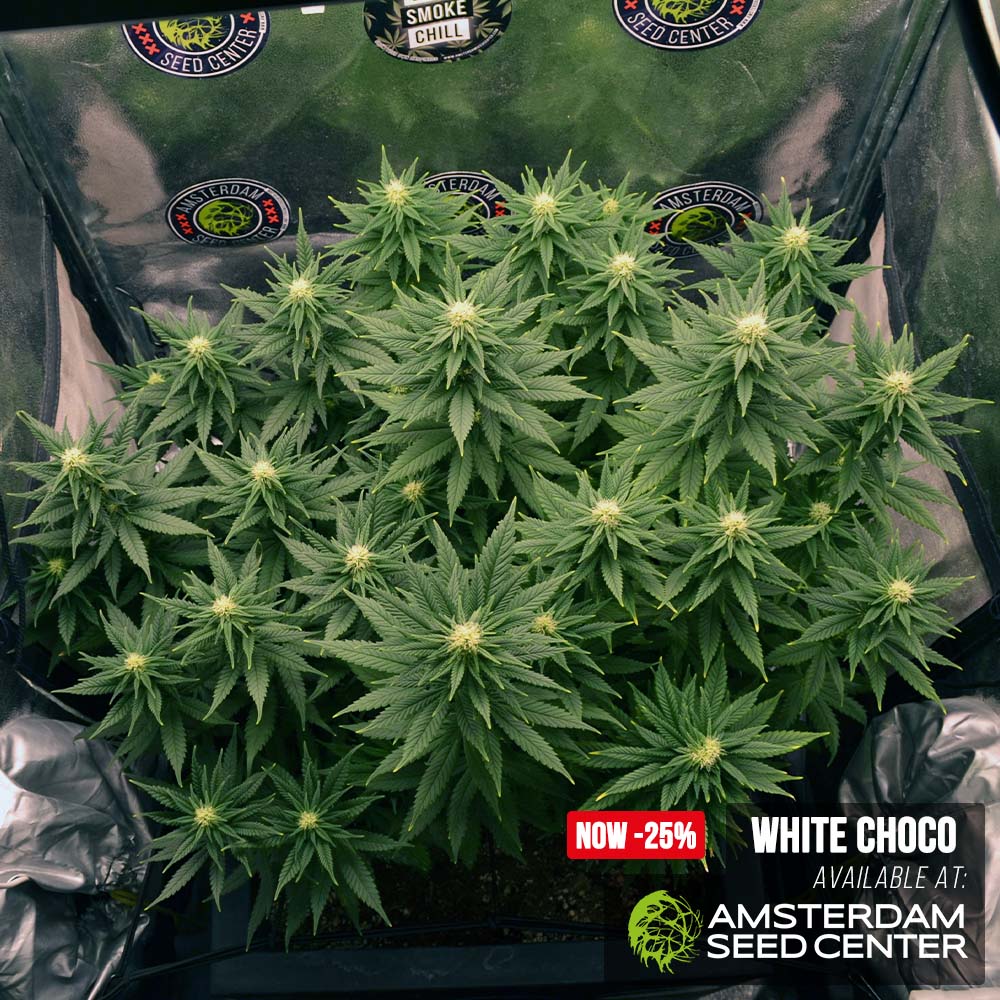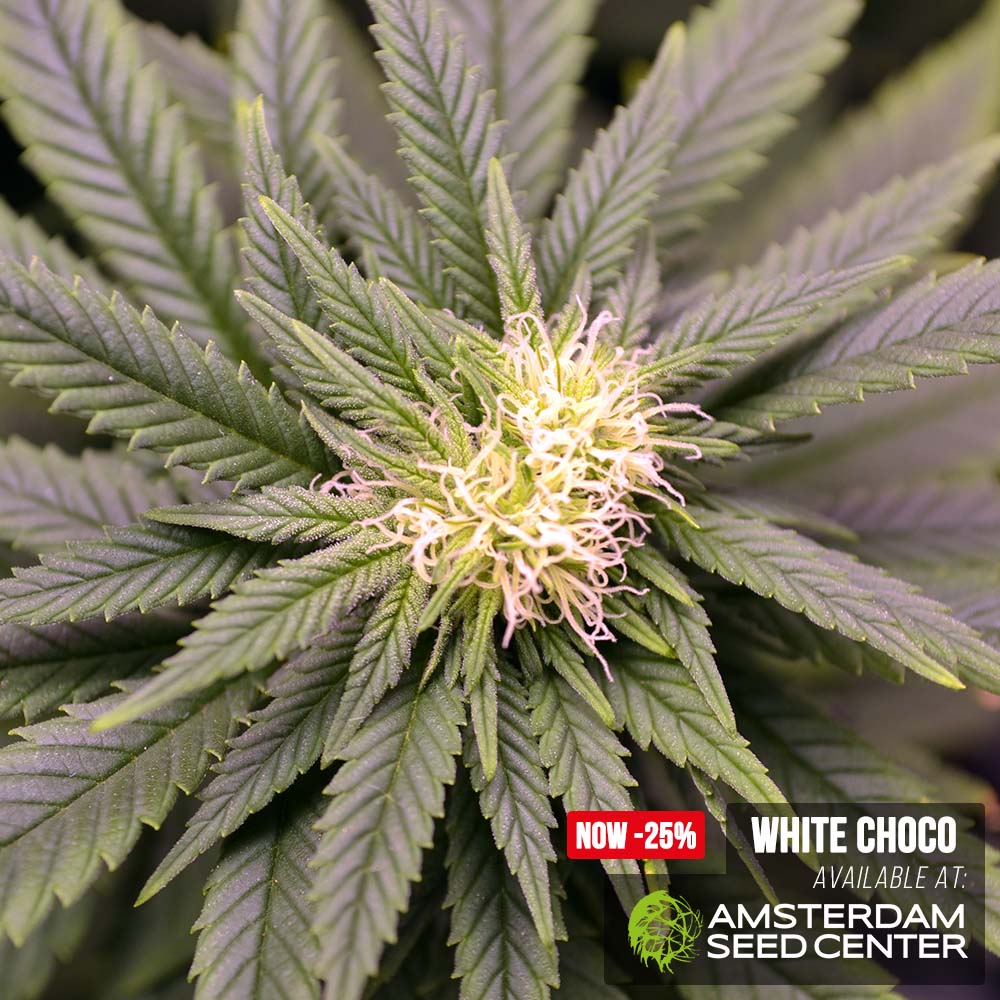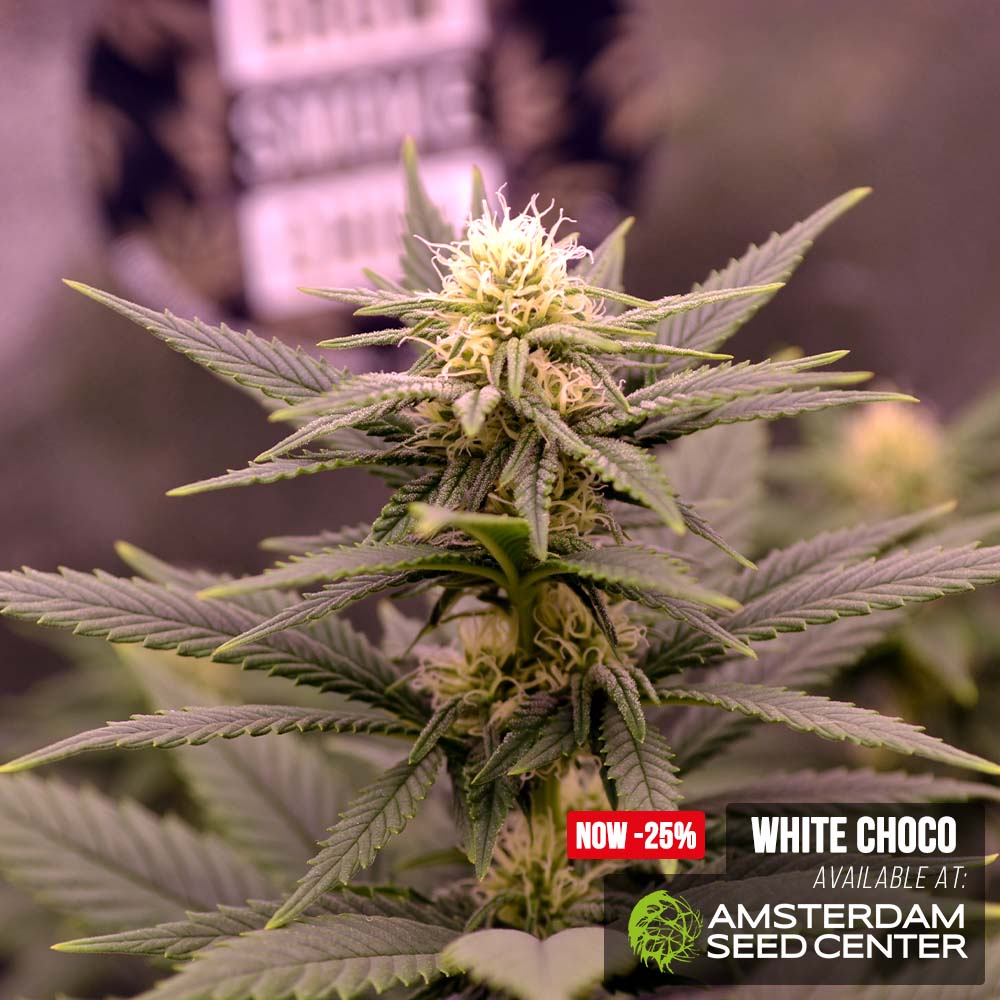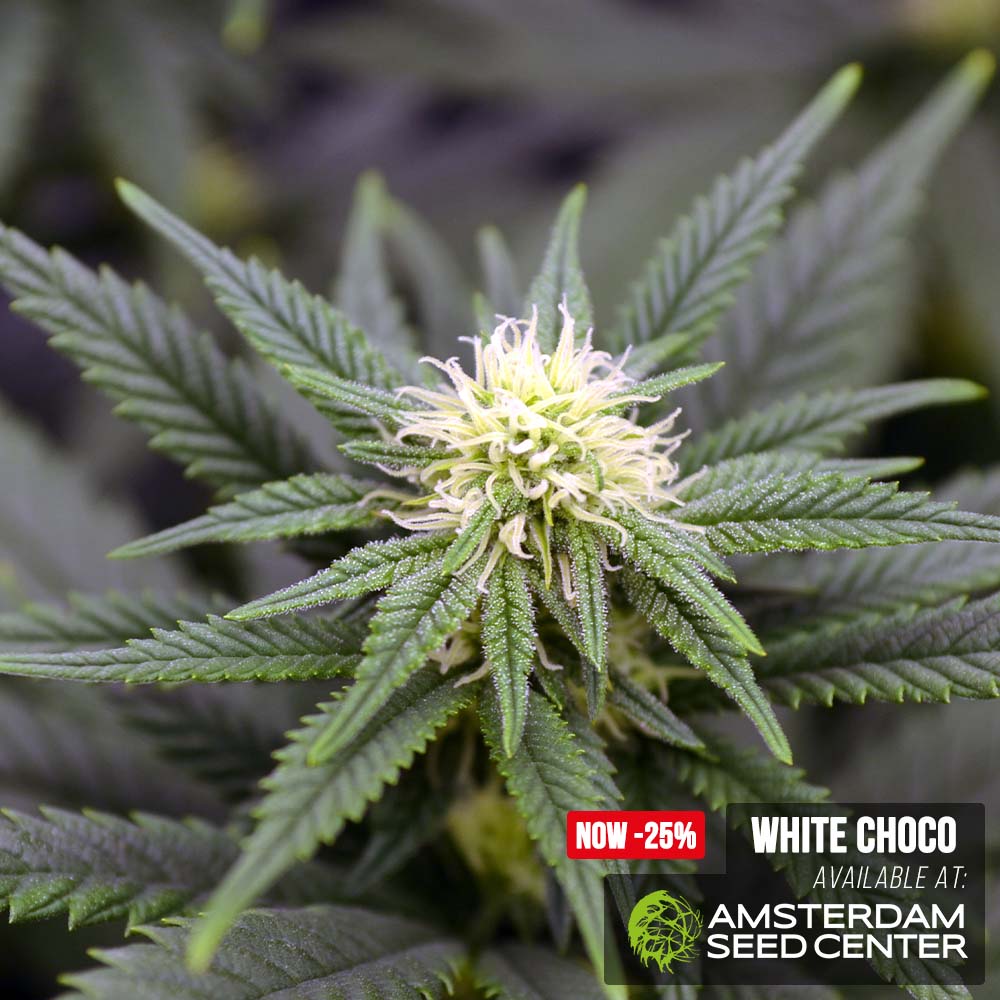 Week 10: All is going well!
White Choco from Amsterdam Genetics in week 10 of the grow.
Week 3 of flowering, and most of the stretch is in visible. It is a nice green bush which is filling up the tent nicely. 
Still many pistils developing. 
We found a nice mutation on one of the branches. In photo 2 you can see that there are two buds on one branch. 
It will be a nice to watch these buds develop and see how they turn out!
About 5 more weeks to go...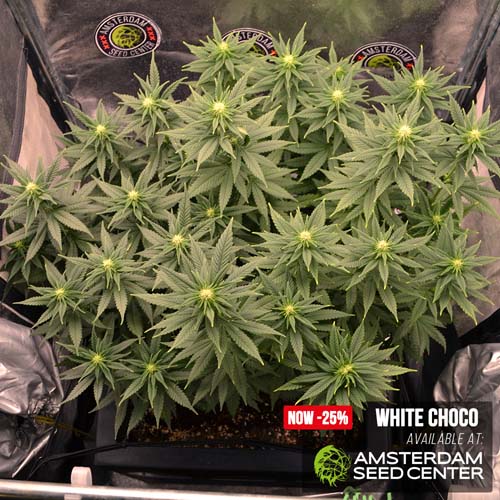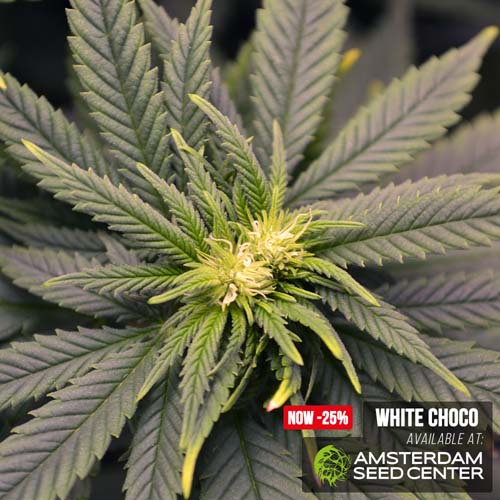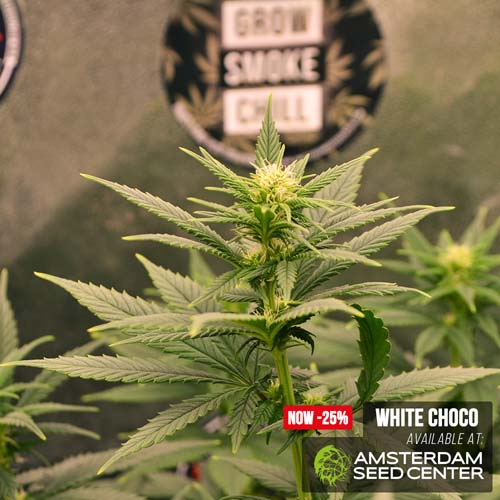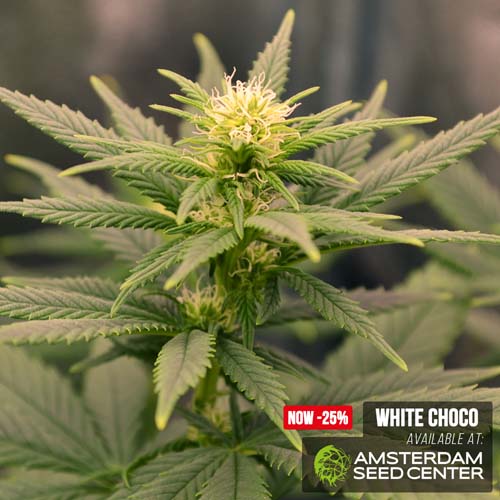 Week 9: Pistils intensify!
White Choco from Amsterdam Genetics in week 9 of the grow.
Week 2 of flowering, all looking good, the plants are stretching, which is normal for the flowering stage.
Many new pistils are forming now , which is normal in this stage of flowering. 
After the pistils, come the calyxes, which will fill up the top branches and give the buds their characteristic shape!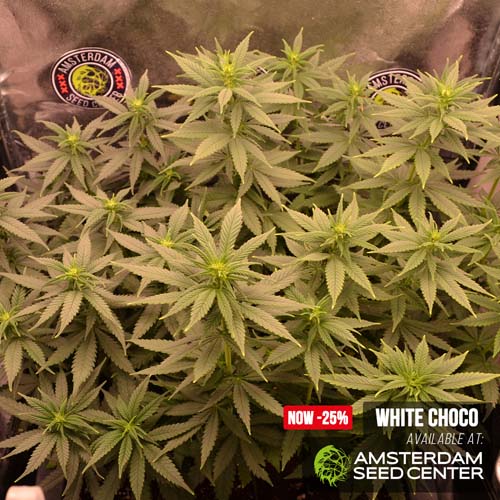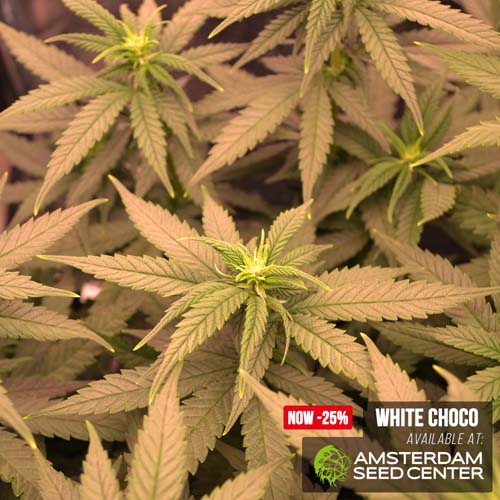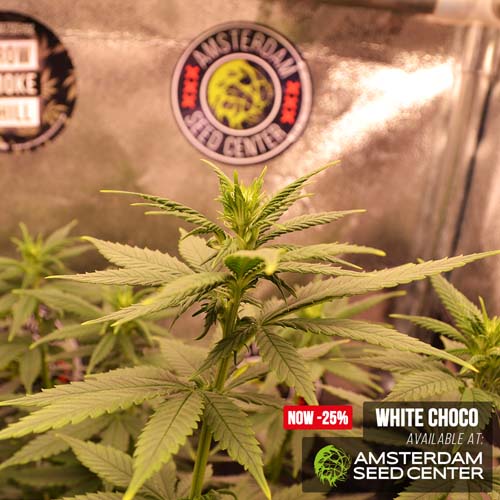 Week 8: Switch to flowering
It's the 8th week of the White Choco grow!
A bit more of the same this week. The plants stretched a bit and they are looking good. 
There is a nice and even canopy, with several rows of branches on which buds will be growing.
We switched them to 12/12 light schedule this week so flowering will start soon. 
We might put up another net to keep the plant supported once buds start forming!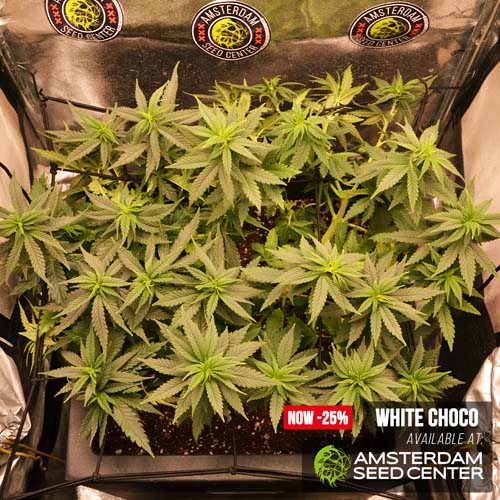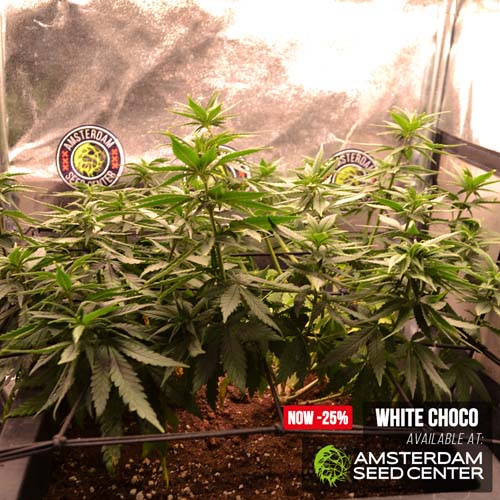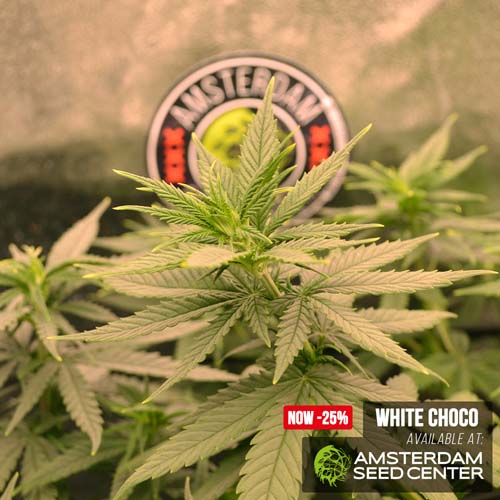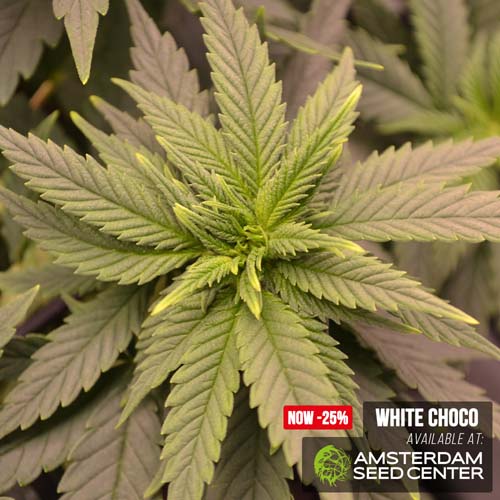 Week 7: Training  the plants!
In week 7 of the White Choco grow there has been a lot of growth!
We put up a trellis/net and started spreading the plants for a more even canopy. 
After topping, the lower branches have grown significantly which gives us the growth we need to fill up the canopy
Measuring in at around 40 cm, they could have been taller but because of the training, we have changed their shape and height.
They will be switching into flower next week!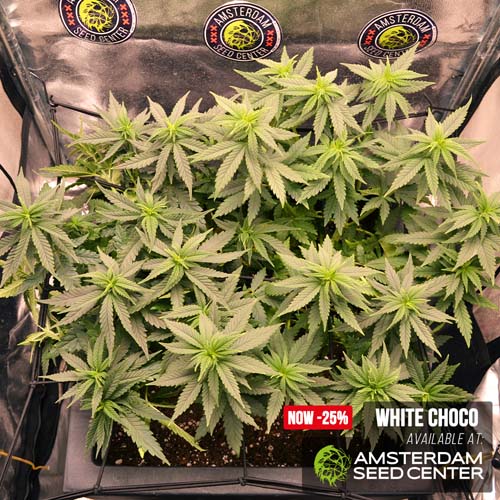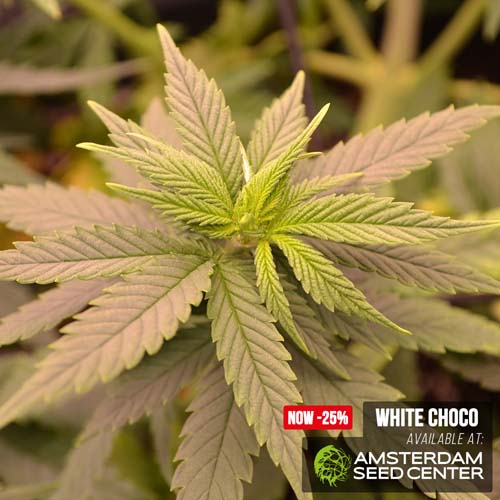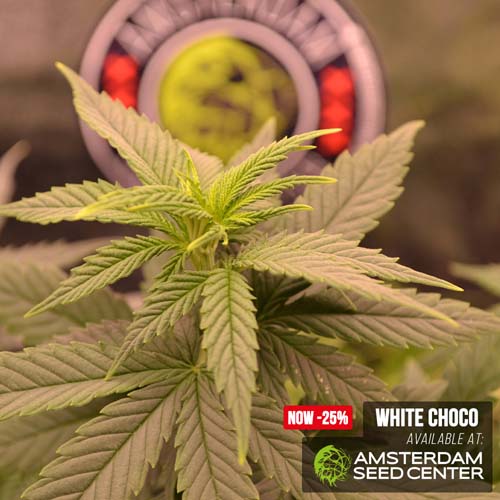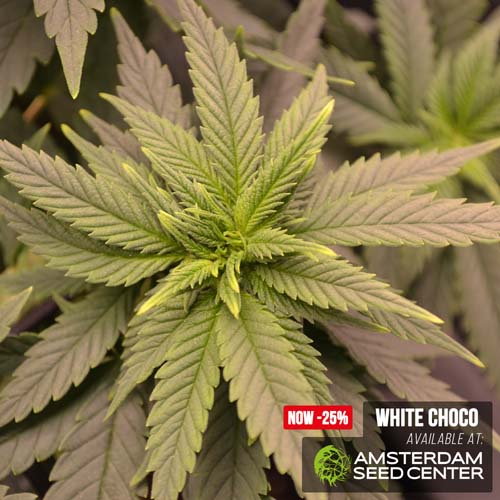 Week 4: Topped and growing fast
In week 4 of the White Choco grow we will no longer call them seedlings. They are plants in vegetative stage!
The plants have been topped, which will start to encourage multiple lower branches to grow, giving us more buds at the canopy. 
Measuring in at around 20 cm, they have nearly doubled in size since last week.
Working on their 7th/8th internode at the moment.. 
Everything looking green and lush. All going well!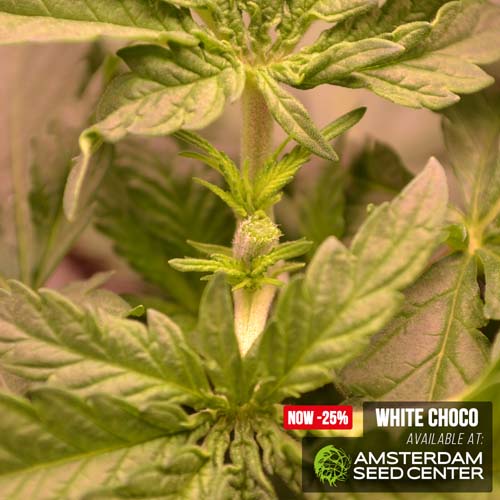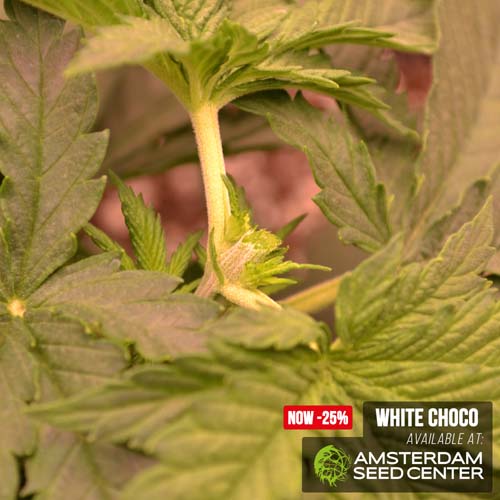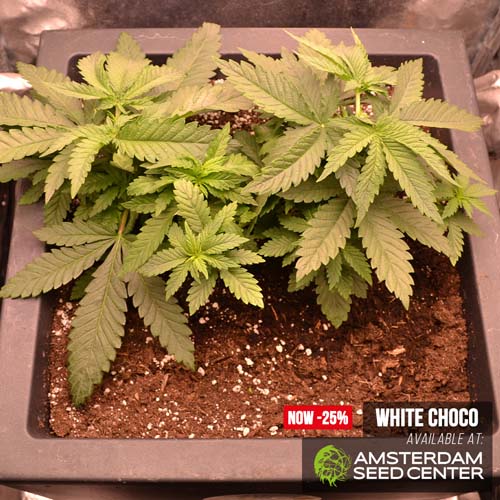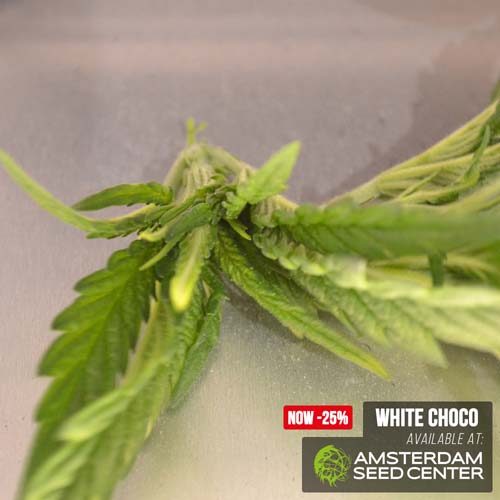 Week 3: Slight burn, but quick recovery!!
The White Choco seedlings are doing well!
Measuring in at around 10 cm, they are growing steadily.
Working on their 4/5th internode at the moment. 
The plants had suffered a slight burn, probably due to too much light and a bit fertilizer. 
They have recovered well and the new growth is looking wonderful!
Still growing under the Jackson 150w LED light from Grow The Jungle!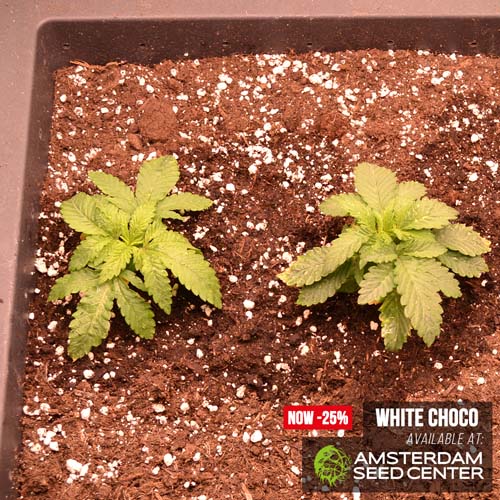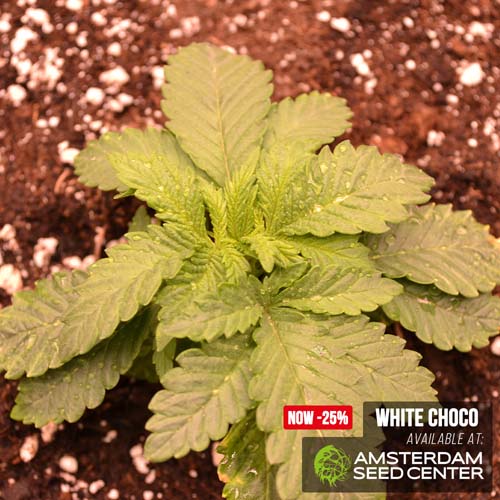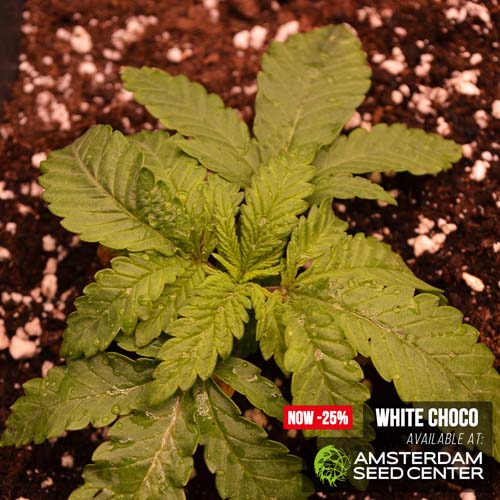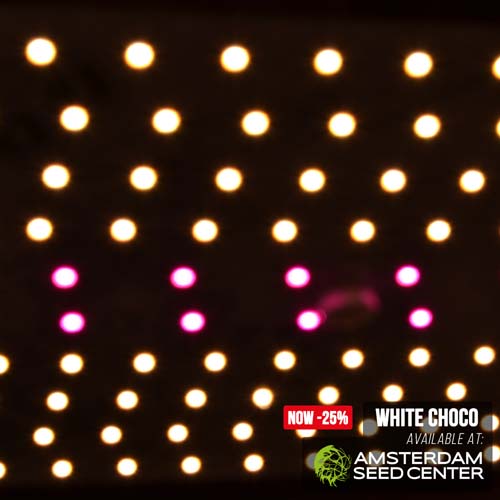 Week 2: Fresh out the ground..
The White Choco seedlings are fresh out the ground. 
Measuring in at 3-4 cm, they are still very small, young and fragile.
We keep them humid and warm and under 18 hours of LED light.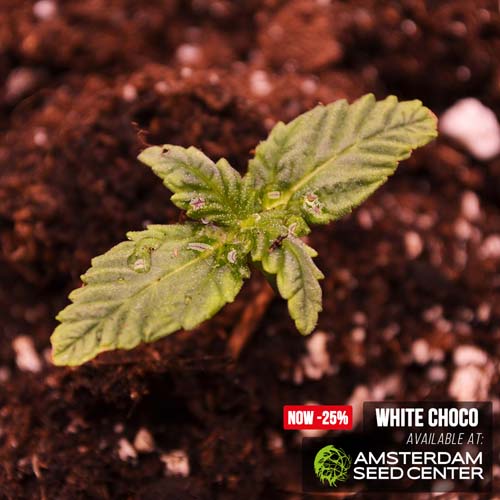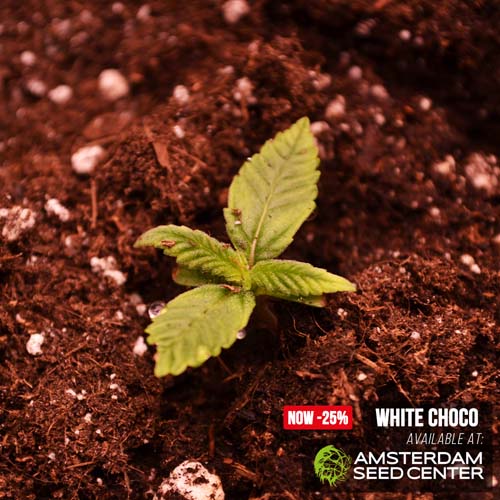 Week 1: Just germinated..
We just germinated the White Choco seeds. This process is very easy and can be done by just placing the seeds in a glass of room temperature water, and place this glass in a dark place. The seeds will sprout after 24-48 hours.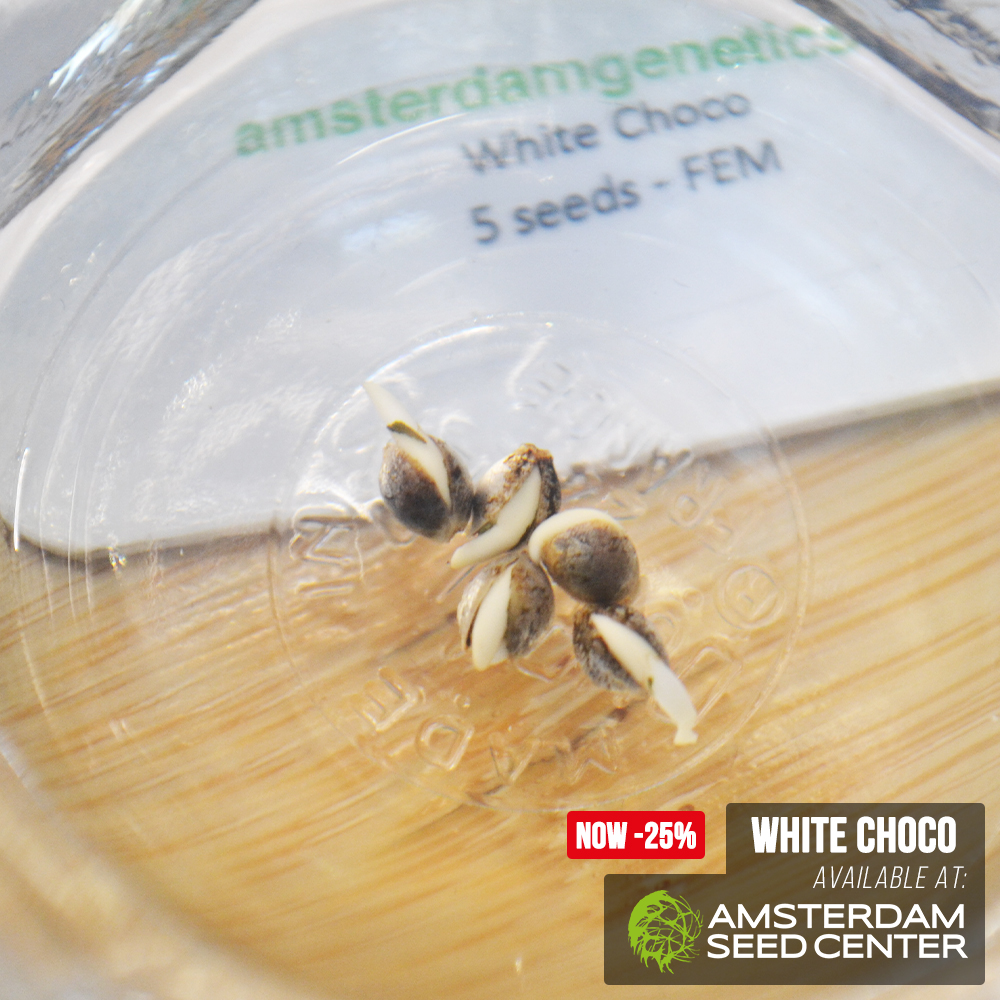 Other questions?
Contact us and we will help you further!