Green House - Feminisierte Hanfsamen | Amsterdam Seed Center
The Green House Seed Company is one of the most successful cannabis businesses in the world. Winner of many international awards (34 High times Cannabis Cups, 17 Highlife Cups, and many more private awards in many countries), it is leader in cannabis genetics.
Arjan, owner and founder, has been acclaimed The King of Cannabis for his amazing record of cannabis prizes won throughout his carreer. He has always been committed to create the best genetics in the world, and to ensure that the growers choose the best genetics, based upon their location, logistics and personal knowledge.
Arjan started collecting genetics and landraces from all over the world 25 years ago, and the hunt is still on! (www.strainhunters.com).
Green House Seed Company genetics are the result of years of intensive breeding. All strains have exceptional medicinal as well as recreational properties, as well as particular terpene profiles guaranteeing unique aromas and flavors.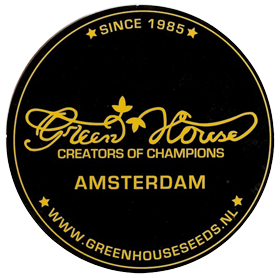 Einkaufsoptionen
Geschlecht

Feminisierter

(33)

Sorte

Reine Sativa

(1)

Zum größten Teil Indica

(14)

Zum größten Teil Sativa

(8)

Hybrid (40/60 - 60/40)

(10)

Art der Blüte

Photoperiode

(32)

Autoflowering

(1)

Blütezeit (drinnen)

6-7 Wochen

(2)

7-8 Wochen

(2)

8-9 Wochen

(18)

9-10 Wochen

(6)

10+ Wochen

(5)

THC-Gehalt

Gering (5-10%)

(1)

Durchschnittlich (10-15%)

(3)

Hoch (15-20%)

(16)

Sehr hoch (20% +)

(14)

CBD Content

Low

(28)

Medium

(17)

High

(1)

Ausbeute

Durchschnitt

(16)

Groß

(23)

Ultra

(7)

Plant Height

Medium

(29)

Short

(3)

Tall

(10)
You have no items to compare.