Dutch Pasison | Feminised Seeds | Online - Vente de Graine de Cannabis. Livré rapidement
Dutch Passion has been developing, upgrading, producing and selling Cannabis Seeds since 1987, making them one of the first Dutch Seed Companies. Through the years they have gained a lot of experience in developing, producing, and marketing premium quality Cannabis Seeds.
In 1998 Dutch Passion made a major breakthrough in Cannabis Seed Technology, through the development of "Feminized" Cannabis Seeds. Under the right growing conditions these "Feminized Seeds" give rise to only female plants.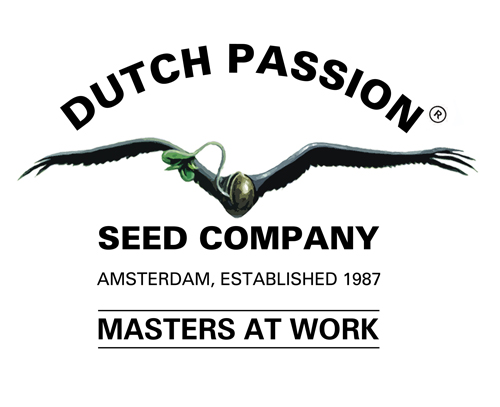 Après de nombreuses années dans notre banque génétique, Blue Velvet, la sœur de notre célèbre Blueberry, est de retour. Blue Velvet est 50% Indica / 50% Sativa, même si la génétique dominante qui s'exprime plus clairement est l'Indica.
1st Prize High Times Cup 2000, 3rd Prize High Times Cup 2001 Brainstorm a un effet high éfficace, fort et intense associée à un goût et une odeur équilibrée et douce.
These premium strength Kush genetics came from North America by crossing 'Grandaddy Purple x OG Kush' with a pre '98 Bubba Kush reverted male. With her average height of 1 meter indoors, a fast 7.5 week flowering period and sour and fruity Kush tones, Bubba Island Kush is a special Kush addition to the Dutch Passion collection. Californian Orange is a genuine old school classic available only from Dutch Passion.
It is a 50% indica/50% sativa hybrid that dates back to 1980 and since then it has only ever been inbred. The genetics come from an exceptional Californian strain and this variety packs a superb quality stone with a clear 'up' high, very social and very special.
If you smoke too much the stone becomes heavier, though the quality is not diminished. Charlotte's Angel is a sativa dominant variety with high CBD levels, 10 to 16% and low THC levels, always below 1%. It's a non-psychoactive variety offering medical benefits without the high, delivering a strong body effect and a calming, anti-anxiety experience. She takes 9-12 weeks to flower and comes with a herbal aroma with piney diesel undertones. Genetics come from Dutch Charlotte (CBD rich clone) crossed with Red Angel (clone-only Amsterdam CBD variety).
CBD cannabis growers will love our mix of three CBD rich feminized photoperiod varieties.

This pack contains the following 9 Feminized CBD Seeds:

3 x CBD Compassion
3 x CBD Charlottes Angel
3 x CBD Kush
Une variété produite en collaboration avec CBD Crew. CBD Kush est une variété riche en CBD avec un rapport approximatif de 1:1 de THC:CBD. Les tests démontrent qu'avec des concentrations allant jusqu'à 8% de CBD, une quantité similaire de THC a été mesurée. Cette variété a été produite en croisant une Kandy Kush riche en THC avec une variété dominante CBD. Cette variété a un mélange de génétiques Indica et Sativa, mais le modèle de croissance montre généralement un aspect dominant Indica avec des récoltes abondantes et un goût satisfaisant. Les plantes atteignent généralement une hauteur de 100 cm.
CBD Skunk Haze est le fruit d'un projet entre Dutch Passion et CBD Crew. L'objectif était d'atteindre un rapport optimal 1:1 THC:CBD. Dans un but médical, un bas pourcentage de THC est préférable pour les patients qui sont à la recherche d'un effet cannabis relaxant, de grande qualité et naturel, sans l'effet intense produit par certaines variétés qui contiennent beaucoup de THC. Les consommateurs qui ne l'utilisent pas dans un but médical considèrent qu'un haut niveau de CBD produit un high très confortable et léger, qui aide à combattre l'angoisse et la paranoïa. CBD Skunk Haze contient 7,5 % de THC et 7,5 % de CBD. Pour créer cette variété, notre Haze/Skunk (gagnante du High Times Cannabis Cup en 1992) a été croisée avec notre variété qui contient beaucoup de CBD.
ComPassion est une variété dominante Sativa riche en CBD, issue d'un croisement entre une variété du Népal et une Sativa sans nom. Il s'agit de la première variété Dutch Passion riche en CBD à avoir été reproduite de façon indépendante. Ses niveaux de CBD et THC sont généralement de 7-12 %. Les plantes atteignent une hauteur moyenne, avec un rendement moyen/élevé de cannabis résineux et aromatisé. A la fin du cycle de croissance, les feuilles prennent une forme fine et allongée.

Malgré la teneur élevée en CBD, certains consommateurs parlent d'effets particulièrement forts après la prise de ComPassion.
Affiner la recherche
Sexe

Féminisée

(46)

Type

Indica pur

(5)

Sativa pur

(3)

La plupart Indica

(7)

La plupart Sativa

(13)

Hybride (40/60 - 60/40)

(16)

Type de floraison

Photopériode

(45)

Temps de floraison (intérieur)

6-7 semaines

(1)

7-8 semaines

(12)

8-9 semaines

(20)

9-10 semaines

(8)

10+ semaines

(2)

Taux de THC

Très bas (0,2 - 5%)

(1)

Petite (5-10%)

(4)

Moyenne (10-15%)

(5)

Haute (15-20%)

(25)

Très haute (20% +)

(10)

Inconnue

(3)

Taux de CBD

Low

(43)

Medium

(20)

High

(3)

Rendement

Moyenne

(25)

Grand

(32)

Ultra

(5)

Taille de la plante

Medium

(37)

Short

(7)

Tall

(8)